A trip to Mexico is always enjoyable, but one that includes a stay at a resort with a water park is much more so. These homes are great for families, couples, and all types of tourists who wish to be able to access a variety of services just outside their door. When it comes to vacation planning, we all have different priorities, but who doesn't enjoy water parks? They're a terrific way for visitors to burn off some energy while also an opportunity to spend some additional time at the pool.
Sandos Caracol Eco Resort
The Sandos Caracol Eco Resort in Playa del Carmen has one of the largest water parks of any hotel in Mexico. The water park began modestly, with only a splash pad for children, but has since expanded to include 29 water slides. The water park features facilities for children of all ages, including a tiny water play area for infants and enormous looping slides for older children and adults. Spraying fountains abound, as are colourful tree and fish statues. Sandos Caracol Eco Resort & Spa is a family-friendly eco retreat offering kids' and baby groups, eco tours in the area, and a high-end spa for parents.
All Ritmo Cancun Resort & Waterpark
The All Ritmo Cancun Resort & Waterpark, constructed as a colourful tree house with serpentine tube slides, giant water buckets, water umbrellas, and even four waterfalls, is another excellent option. Adults may use the swim-up bar to keep an eye on older children in the water park while sipping cocktails, while tiny tots enjoy the smaller splash pool. It has its own tiny private beach and many of the accommodations have ocean views, making it one of the top family-friendly all-inclusive resorts in Cancun. For nighttime entertainment, there are four restaurants and two snack bars, as well as an onsite theatre.
Iberostar Paraiso Lindo, Playa del Carmen
A pirate ship-themed water park featuring water slides and water buckets, as well as a lazy river and a wave pool, are available at this colonial-style resort. It is an all-inclusive resort with a private beach, children's clubs, and a free shuttle service to its sister hotels for complimentary access to their facilities and food options. Water sports such as kayaking, snorkelling, and scuba training are available at the resort, as well as an 18-hole championship golf course, a full-service spa, and various restaurants. Nightly entertainment, including live music and shows, is available to guests.
Allegro Cozumel
Allegro Cozumel, a family-friendly resort with a fantastic pirate-themed water park, is located on one of Cozumel's most stunning beaches. The water park is located in a tiny pool of water and features two slides as well as a pirate-themed playground. For smaller children, there are slides, tipping buckets, and wading areas. The Allegro Cozumel also has a kids' club, diving, a large beach, an adult-only hot tub area, and five restaurants.
Despite having a water park and children's play areas, Allegro Cozumel is best regarded as a mid-range diver's resort with a laid-back environment and outdoor activities such as kayaking, snorkelling, and windsurfing.
Gran Festivall All Inclusive Resort, Manzanillo
This family-friendly all-inclusive resort was created with children in mind. The waterpark, for starters, includes a pool with a pirate ship and minor slides, as well as a pool with four longer slides. There are also courts and fields for numerous sports, as well as archery, paintball, and a zip-line. There is a nightclub for teenagers and young adults. Adults can participate in some of the more boisterous activities, or they can relax in the adult-only solarium or pamper themselves at the spa.
Royal Solaris Cancun, Cancun
The Royal Solaris Cancun, located immediately on the beach in Cancun's Hotel Zone, is ideal for budget-conscious families vacationing to Cancun with young children. It has a water park themed like Noah's Ark, complete with a tiny pool with an ark, animal figurines, and five slides. A family-friendly meal plan, a kids' club, and a video gaming area are all available at the all-inclusive resort. A private marina featuring water activities is located across the street. Rooms are very large, allowing families to stretch out, and some have balconies with sea views and hot tubs.
Panama Jack Resorts Cancun, Cancun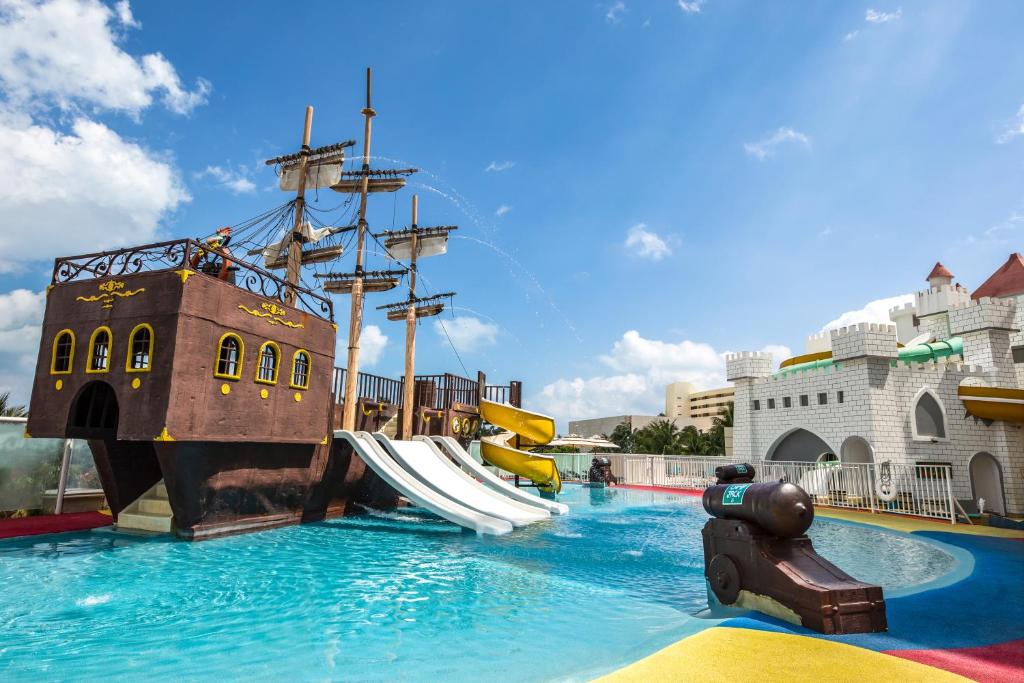 Panama Jack not only stands on a gorgeous white sandy beach in a breathtaking oceanfront position, but its pirate-themed splash park, which contains seven water slides, two splash zones, and a family pool, is usually a favourite with the youngsters. There are additional poolside activities, a variety of water sports, free yoga, a small spa, and five restaurants, offering Mexican, Italian, and buffet-style options. Each room has a hammock-equipped terrace and is decorated in a tropical style. Sunken sitting spaces with sofa beds and small eating tables are common. There are also six ocean-view swim-up suites with a common pool available.
Grand Bahia Principe Coba
The water park at Grand Bahia Principe Coba, which is located between Akumal Beach and Tulum, is expected to be popular with children. This lagoon-style water park is made up of big stones and unusual structures. Several water slides plunge into the shallow water at the park's bottom, leading to colourful statues of sharks, elephants, and frogs. The water park is only one of the resort's numerous family-friendly features. Other amenities include family rooms, children's welcome packages, and a kids' club. A babysitter service is available for parents who require a night or day off to enjoy the resort's casino, spa, or nightclub.
Dreams Playa Mujeres Golf & Spa Resort
Dreams Playa Mujeres Golf & Spa Resort, located on a white-sand beach a half-hour drive from Cancun, is a family-friendly all-inclusive with plenty of activities to keep the youngsters entertained. The hotel has various pools, including two infinity pools, six whirlpools, and a water park, in addition to an attractive spa, modern gym, live performances, and a golf course. The rooms are large, with some having swim-out access or private pools, allowing the family to stretch out.
Dreams Playa Mujeres Golf & Spa Resort includes two massive waterslides for older kids (and adults! ), as well as a fantastic water play area with smaller slides, splash buckets, and water jets for younger children. A water trampoline, a lazy river for Preferred Club guests, and a gorgeous white-sand beach are also available.
Barcelo Maya Colonial, Riviera Maya
The Barcelo Maya Colonial is located on a mile-long length of white dunes and offers six pools, including a shallow pool for children, a large pool for adults, and the Pirates Island water park, which includes slides, castles, and waterfalls. There's also a game area, a surf rider, an 18-hole miniature golf course, and a four-lane bowling alley on the premises. Free non-motorized water sports are available, as well as dining at eight on-site restaurants and four more at the sister hotel. The rooms are extra-sized, with huge windows that open onto private terraces, balconies, or terraces with a view of the garden or pool.