Atlanta serves as the Atlanta metropolitan area's cultural and economic hub. Its unusual landscape includes rolling hills and the most dense urban tree coverage, and it is located in the foothills of the Appalachian Mountains.
If you are looking for free activities in Atlanta, some of the most well-known attractions in metro Atlanta are economical. Atlanta is known for its numerous free public parks and green spaces, which have earned the city the nickname "the city in a forest." Many attractions can be reached via the MARTA public transit system, which includes light rail, bus, and subway service, for less expensive transportation options throughout the city. That being said, let's look at the 10 best free things to do in Atlanta.
Martin Luther King Jr. National Historic Park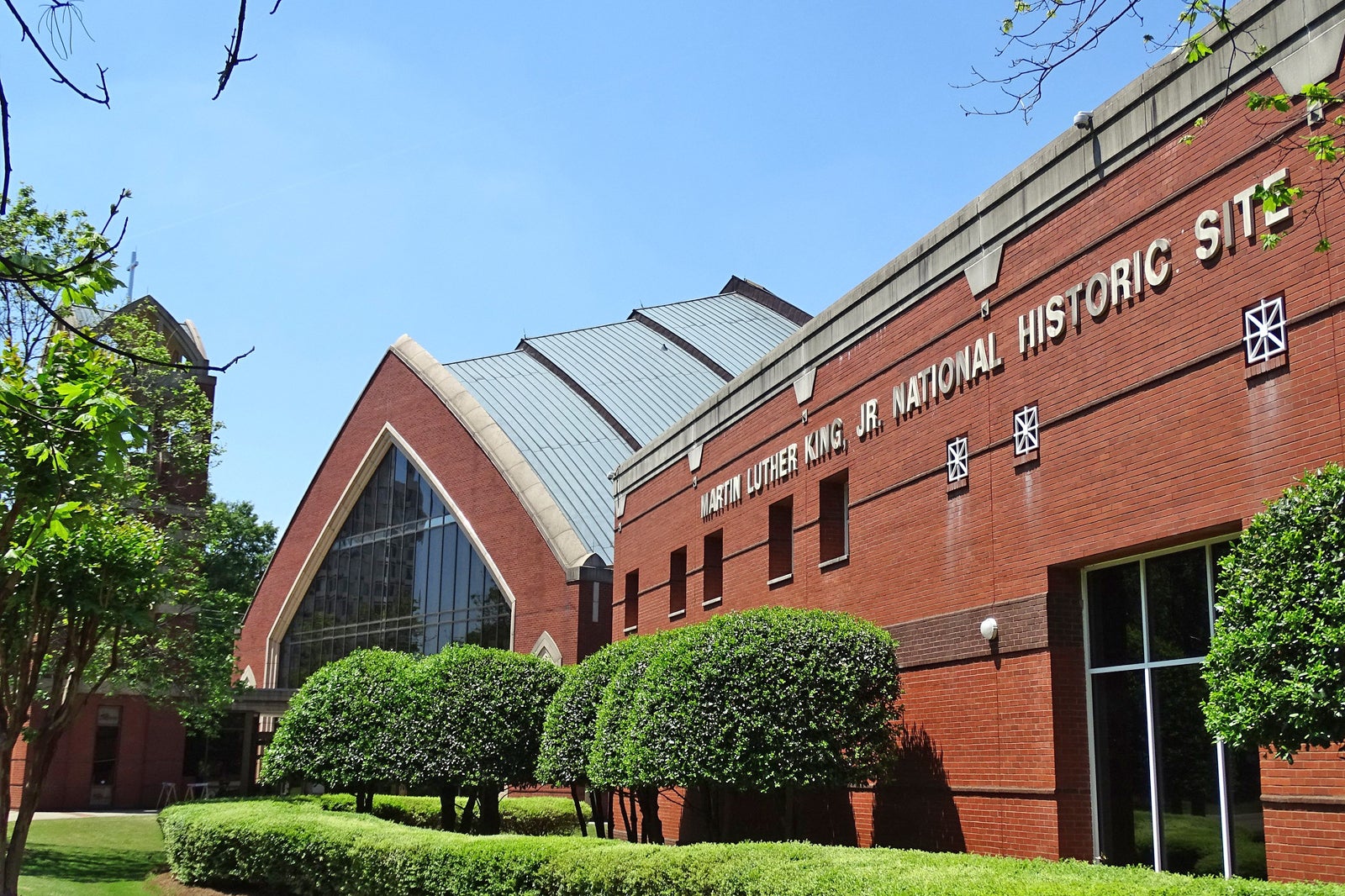 Martin Luther King Jr. National Historic Park, established as a unit of the National Park Service in 1980 to protect various Atlanta sites important to King's life and legacy, celebrates American Civil Rights Movement leader Martin Luther King Jr. King's boyhood house, which may be seen as part of limited-availability free guided tours, and the intact Ebenezer Baptist Church, where both King and his father served as pastors, are among the site's attractions.
Free exhibitions and film presentations on King's work and the Civil Rights Movement are available at the site's visitor centre, with more free civil rights exhibits and public special event programming available at neighbouring Freedom Hall.
The International Civil Rights Walk of Fame, which honours prominent historical social justice figures, is one of the city's outdoor attractions. The location is easily accessible through MARTA public transportation from the nearby King Memorial Transit Station and King Historic District subway stop, despite the fact that parking is only free for group tour buses.
The Centennial Olympic Park
The Centennial Olympic Park, Atlanta's major urban space, provides gorgeous grounds for anyone to enjoy. It was built for the 1996 Summer Olympics and offers ample of opportunities for picnics or a leisurely stroll. It's a terrific place to start if you want to see the Georgia Aquarium, the World of Coca-Cola, or the SkyView Atlanta Ferris Wheel, which is just across the street. If you're on a budget, however, merely enjoying what the park has to offer will suffice.
The fountains are one of the main attractions, at least for youngsters in the summer. On hot, steamy summer days, kids love splashing about in these fountains. The park hosts a variety of paid concerts and events, as well as a number of free events, such as the Southern Company Amphitheater's Music at Noon performance series, which takes place every Tuesday and Thursday. Marta is only a short distance away, so getting there without a car is simple.
The Atlanta BeltLine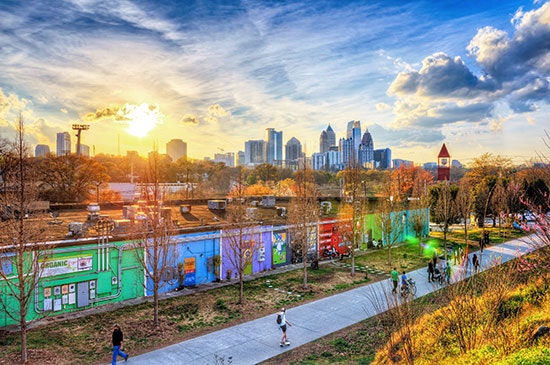 The Atlanta BeltLine, which was first proposed in 1999, will eventually connect 45 in-town neighbourhoods with 33 miles of multi-use pathways and 22 miles of historic rail lines. The BeltLine is still under construction, despite the fact that a substantial amount of it has already been completed and is in operation. Currently, there are four trail segments, four public parks, Art on the Atlanta BeltLine, and the Atlanta BeltLine Running Series, as well as regular art events. Plan your visit around an event, or just bring your bike or a running partner and see what all the fuss is about.
Atlanta Contemporary
Atlanta Contemporary was formed in 1973 as the Nexus grassroots artist cooperative and is now one of the premier contemporary arts complexes in the American South. Today, the nonprofit, non-collection organisation has a permanent location in Atlanta's West Midtown district that is open to the public throughout the afternoon hours Tuesday through Sunday.
More than 100 local, regional, and international artists' works are included in 6-10 rotating shows throughout the year, with a special emphasis on new artists and artists who have not previously had substantial exhibition exposure in the region.The center's Studio Artist Program, which fosters collaboration among local working artists, provides affordable artist studio space. Each year, over 50 public educational programmes, including children's programming and artist talks, are provided. Visitors can park for free at the Bankhead and Means Street parking lots, and take advantage of Georgia Tech's free city shuttle service.
The Fernbank Science Center
The Fernbank Science Center, about 15 minutes northeast of Downtown Atlanta, will take you on a journey of scientific wonders. The Ralph Buice Jr. Observatory and the Jim Cherry Memorial Planetarium are located here. Even if tickets are required for the planetarium shows, the scientific facility is free to attend. A live animal exhibit including snakes, spiders, poison dart frogs, and turtles, as well as the 1968 unmanned Apollo 6 Command Module on display in its hall, are among the other displays.
Castleberry Hill
Castleberry Hill, about a mile southwest of Atlanta's downtown, is home to one of the city's most unique and artistic neighborhoods. Every second Friday (in the evening) of a month, a number of area galleries and cultural organisations come alive with visual and performing arts exhibits, installations, and performances. Many restaurants, pubs, and entertainment venues in the neighbourhood are also offering specials and discounts in honour of the art crawl. The supervising group for the art crawl also hosts the annual FLUX public art festival, which fills the neighborhood's streets with unique performances and art installations once a year.
High Museum of Art
The Atlanta Art Association created this art museum in 1905. The High Museum of Art now houses about 15,000 works of art in its permanent collection. It features a developing collection of contemporary paintings and photographs, in addition to an extensive collection of 19th and 20th-century American, European, and African-American art. This is due in part to the organization's ongoing support for emerging artists from the South. Every second Saturday of the month, the museum is open to the public for free.
Piedmont Park
At Atlanta's own Central Park, you can get a 360-degree view of the jaw-dropping Midtown Atlanta cityscape. This huge city park has walking trails, a running track, a playground, soccer fields, a swimming pool, and a dog park, to name a few amenities. It attracts a wide range of people searching for a fun, free way to enjoy being outside during daylight hours all year. Spend the afternoon jogging along the lake or simply laying down a blanket and soaking up the sun. Food trucks are prevalent, especially in the summer, so bring some extra cash with you just in case. It's also a popular place for numerous festivals and events hosted throughout the year, thanks to its central location and plenty of green space.
The Anne Frank Museum
The Anne Frank Museum's Anne Frank in the World: 1929-1945 exhibit, which features more than 600 images and documents relating to World War II's Jewish concentration camps, tells the tale of young Holocaust victim and novelist Anne Frank. The museum is open Tuesday through Saturday during the morning and afternoon hours and offers free entry and parking to visitors ages five and up, as well as guided and self-directed museum tours. Frank's narrative is used to highlight the social and political tragedies of the Holocaust, chronicling her early days of freedom, her family's flight to Amsterdam, and her death in the Bergen-Belson concentration camp in Germany in 1945. "The Short Life of Anne Frank," a half-hour documentary video, features the only known video footage of Frank and is available in English, French, Spanish, and Hebrew. The exhibit also includes a reproduction of Frank's bedroom, as well as a photographic essay on the Buchenwald concentration camp by World War II soldier William Alexander Scott III.
Center for Puppetry Art
The property is a home to a museum with permanent and visiting exhibitions, as well as regular puppet performances for adults and children. Thursdays are free, despite the fact that museum entrance is usually $8. The permanent collection of the museum houses around 350 puppets from throughout the world, including "Pigs in Space" from "The Muppet Show." While admiring the large collection of puppetry accoutrements, look at specimens of shadow, rod, marionette, and hand puppets. The museum's admission includes access to temporary exhibitions, which are ideal for visitors of all ages. Return for a paid ticket to one of the center's incredible performances after your free visit.