It's no secret that one of the most popular RV destinations is Florida. Florida is one of the most popular RV destinations due to its beautiful weather, and it also boasts some of the top RV parks in the country to satisfy sun seekers. RV parks in Florida are plentiful, with options ranging from rustic retreats to high-end luxury resorts.
It's no secret that RVers adore Florida's campgrounds. Florida is known for its southern hospitality and abundance of natural resources, gorgeous landscapes, and recreational activities for people of all ages. The typical RVer is evolving as well. Working couples and young families are increasingly discovering the lifestyle and taking to the road on weekends and vacations. On your next journey south, check out these ten of the top RV parks and campgrounds in the state.
Camp Gulf (Destin)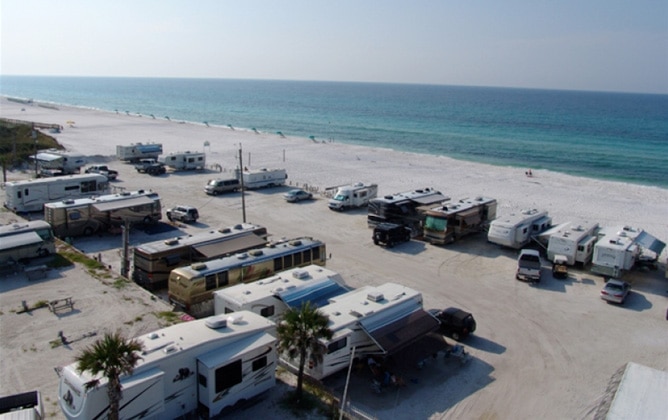 You've probably heard of beachfront RV parks, but Camp Gulf is located right on the beach in Destin. Every morning, walk out your front door to sugar sand beaches and green gulf waters. Destin is ideal for individuals who want to relax, unwind, sip a beverage, and read a good book while their toes are in the sand.
Relax on the beach all day or visit Destin for some fantastic shopping and delectable cuisine. Two heated pools, golf cart rentals, a spa, and even soft serve ice cream are all available at Camp Gulf.
Jetty Park
You can view cruise ships and submarines arrive and go, as well as rocket launches from the Canaveral Air Force Station, from Jetty Park. Visit Port Canaveral's Exploration Tower, which features seven floors of exhibits and interactive activities, as well as observation decks, a theatre, and more. There will also be a variety of marine species to see. This Park is really comfortable because it has a lot of conveniences and enjoyable attractions like fire pits. For those with an interest in the air and space, Jetty Park offers an out-of-this-world experience.
Coastline RV Resort
This campground is ideal for RVers who prefer to travel in style. You won't be homesick at all with all of the amenities—in fact, you might not want to go home! The clubhouse has a fitness facility, a fully equipped kitchen, and a screened-in patio with rocking chairs where you may be active during your stay. When you're not relaxing at the campsite, explore the rich history of the nearby towns, go off-shore fishing in the Gulf of Mexico, or simply relax at the beach.
Naples Motorcoach Resort
The Naples Motorcoach Resort is the place to go if you want to be pampered. The Naples Motorcoach Resort is the ultimate bliss, with private campsites for Class-A motorhomes. In addition to all that Naples has to offer, the location is ideal for visiting the Everglades, Big Cypress National Preserve, and Naples' beautiful white-sand beaches. With a ballroom, billiards room, private theatre, fitness centre, spa, sauna, sun deck, swimming pools, and a dog park, among other amenities, the resort leaves little to be desired. The convenient dock and boat storage will appeal to boaters. For those who want to keep connected, there is free WiFi. The planted RV sites are spacious and feature concrete pads with complete hookups. This RV Park is a must-see with direct access to the Gulf of Mexico. 
Nature's Resort RV Park
Visit Nature's Resort RV Park in historic Homosassa, Florida, to play with the manatees. You may swim with the Homosassa manatees and are surrounded by 97 acres of freshwater streams, rivers, and animal sanctuaries. Follow the Halls River to world-class offshore and deep-sea fishing, which can be arranged by chartering a boat.
On-site amenities include food, clean baths, laundry, and basketball and volleyball courts. Nature's Resort hosts bingo, dances, and potlucks for campers who are staying for an extended period of time.
Larry and Penny Thompson Park & Campground
Miami-Dade County owns and operates the Thompson Park campground, which is conveniently located near a variety of South Florida attractions. The park has 240 full hookup sites as well as four restroom and laundry facilities, a camp store, picnic shelters, and other amenities.
If you get weary of touring the heart of Miami or the adjacent Everglades National Park, there's much to do right at the 270-acre park, such as fishing or swimming in the pond, jogging or bicycling along the paths, or watching the sunset. In the RV camping area, pets must be on a leash.
Ocean Breeze Resort
"55+ Active RV Resort Living" is how Ocean Breeze Resort describes itself, and it more than lives up to that description. The resort is located on Jensen Beach in South Florida, near a number of top golf courses and the Savannas Preserve State Park. The amenities include a fishing pier, swimming pool, basketball court, horseshoe pits, bocce ball court, and a beautiful private beach. When you wish to explore, there are lots of local sights and activities to keep you occupied. Concrete pads with full hookups, WiFi and cable television, barbeque grills, and picnic tables are available at RV sites. Add this South Florida RV resort to your itinerary for numerous chances for active enjoyment.
Pecan Park RV Resort (Jacksonville)
Both Flamingo Lake RV Resort and Pecan Park RV Resort are excellent places to stay in Jacksonville, but Pecan Park RV Resort wins out since its RV spaces are asphalt rather than dirt.
Pecan isn't just about asphalt. You may enjoy your vacation in Jacksonville by pulling into one of the spacious full hook-up sites and eating lunch at your picnic table. Gas refills, full laundry facilities, and on-site storage are all available. There's a pool, clubhouse, outdoor games, planned activities, and even on-site fishing to keep you entertained. Spend your evenings at Pecan Park RV Resort to make the most of your time in Jacksonville.
Buttonwood Inlet RV Resort
Buttonwood Inlet RV Resort is the place to go if you want to stay active while RVing full-time. The stunning resort is tucked in the peaceful village of Cortez, Florida, on the Gulf of Mexico's coastlines. Cortez has a wide range of activities for any explorer searching for something to do other than sit on the beach after pulling up.
At Buttonwood, take advantage of the gulf's mild weather by kayaking, freshwater and saltwater fishing, or taking a leisurely stroll to take in the scenery. The resort features horseshoes, a picnic area, and even a library in the clubhouse if you're feeling lazy. Buttonwood also offers WiFi, digital TV, full hookups, and pet-friendly accommodations.
Lion Country Safari KOA, Loxahatchee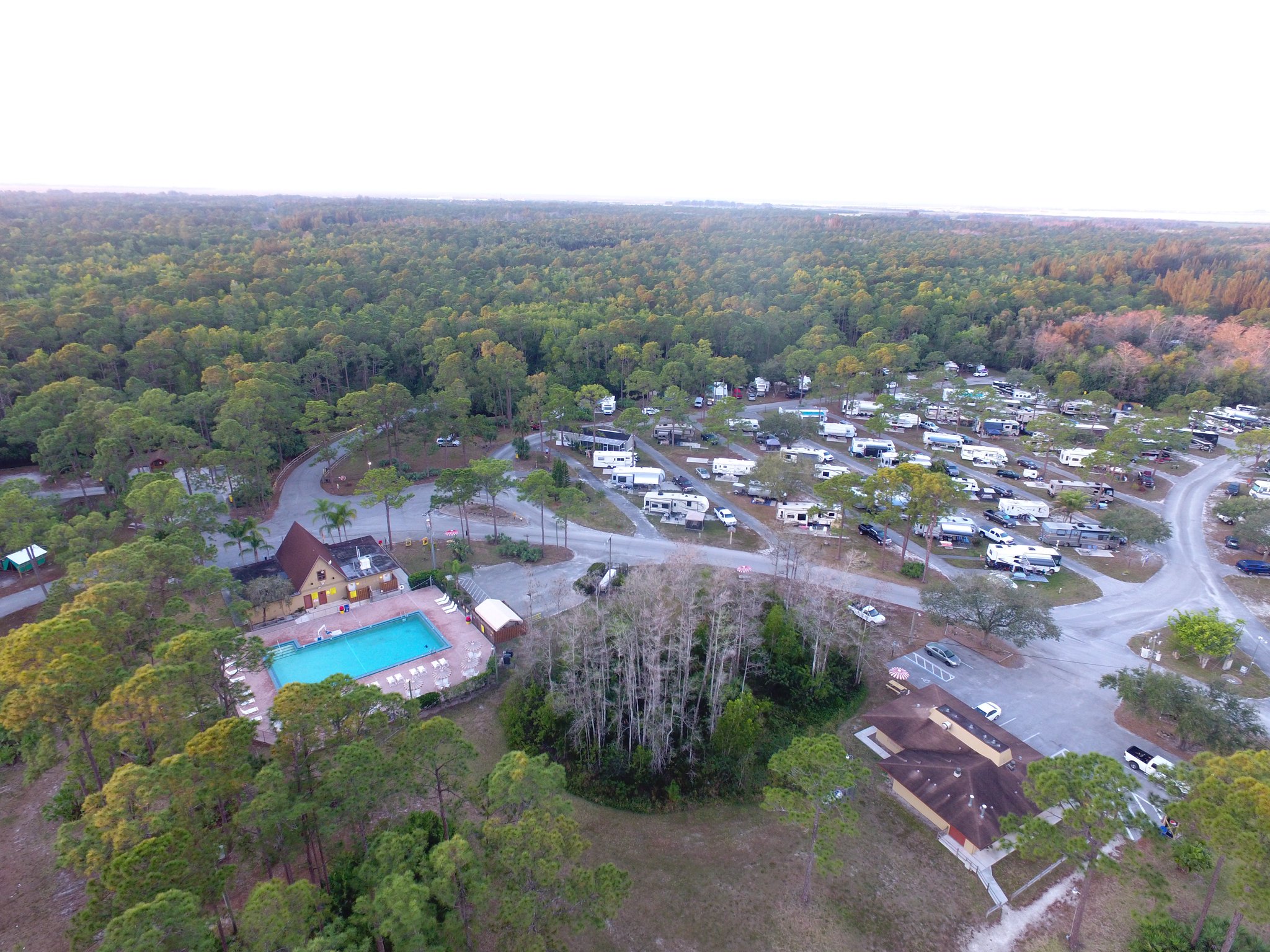 Relax while listening to lions roar at the Lion Country Safari next door from your RV park. The Lion Country Safari KOA may be one of Florida's most interesting RV parks. Not just lions, but also monkeys, flamingos, giraffes, and other animals may be found at the nearby Safari. You may walk around, drive through, and even take VIP tours to get closer to the action. Enjoy West Palm Beach and the eastern edge of Lake Okeechobee once you've finished interacting with the herd. Pull-through sites with picnic tables, concrete patios, and full hook-ups are available at the campground. Relax in the gas-heated pool, or play basketball, shuffleboard, or volleyball.