Yosemite National Park runs the length of the Sierra Nevada mountain range, with vast stretches of dense forest and scant vegetation. On the park's perimeters, there are dozens of campsites and lodges, and it's a park that's accessible to just about anyone who wants to visit. Summers can be spent at Bass Lake, an alpine lake just a few miles from the park's gates.
There isn't a terrible season to visit Yosemite from Spring to Fall. However, depending on your preferences, one season may be chosen over the other. Spring in Yosemite brings lush green grass, new blossoms, and flowing waterfalls screaming with the melting snow from the previous winter. Yosemite National Park is best visited during this time of year, in my opinion. Summer is the busiest season for visitors to the park. Temperatures are high, waterfalls are still running, and the snow has melted, allowing hikers to access even the highest altitude trails. Yosemite lodging is scarce at this time of year, and the park is at its busiest. The turning of the leaves is a sign of autumn with brilliant colors, pleasant weather, and fewer visits. The major disadvantage of going in the fall is that the waterfalls will have dried up. Because most roads and hiking routes in Yosemite National Park are closed during the winter, it is not a good time to visit. If cross-country skiing, ice skating at Curry Village, or snowshoeing is your thing, Yosemite National Park has them all.
Yosemite National Park is one of the most beautiful in the United States, featuring famous landmarks, historical sites, epic hikes, and amazing views. Here, we have compiled a list of amazing things to do in Yosemite.
Hike to the top of Half Dome
Half Dome is a suitable name for the massive granite boulder that has become Yosemite National Park's de facto symbol. Although climbing to the summit of Half Dome is a difficult task, the views from the top are well worth the effort.
If you only do one thing when visiting Yosemite National Park, make it trekking to the top of Half Dome. Before reaching the foot of Half Dome, this 17-mile trek travels through Vernal and Nevada Falls. Hikers use planks and cables to scale the backside of the rock from here.
Hikers can only visit Half Dome between June and August. Half Dome requires permits and is not advised for inexperienced hikers. There are only 300 permits available per day, and they must be reserved in advance through the National Park Service website.
Hike to Vernal and Nevada falls on the mist trail
One of Yosemite National Park's most popular – and family-friendly – hikes. The mist path is a 7-mile round-trip journey that takes you through the refreshing sprays of Vernal and Nevada Falls. You'll be treated to breathtaking green views and glimpses of Yosemite's towering white granite faces as you pass over gorgeous rivers and wind around the rim of the valley. Remember to bring a poncho because you will be getting wet.
Visit the Yosemite Falls
A fog of mist seems to linger in the air at Yosemite National Park in the springtime. Rivers and gorges overflow and cascade over Yosemite's many peaks as the snow melts. If you've come to view the waterfalls, come in May to see them at their best.
Yosemite Falls, a three-tiered waterfall that is one of the world's tallest, is the most accessible waterfall. Yosemite Falls may be seen from a variety of locations within the park due to its size. The walk to the base of the falls is a one-mile loop that is wheelchair accessible.
There are dozens of additional waterfalls in the park, each with its own distinct appeal. Some falls, such as Chilnualna Falls and Wapama Falls in Hetch Hetchy Valley, are impressive due to their grandeur, while others, such as Vernal and Nevada Falls, demonstrate that size does not always equal beauty.
Glacier point offers amazing views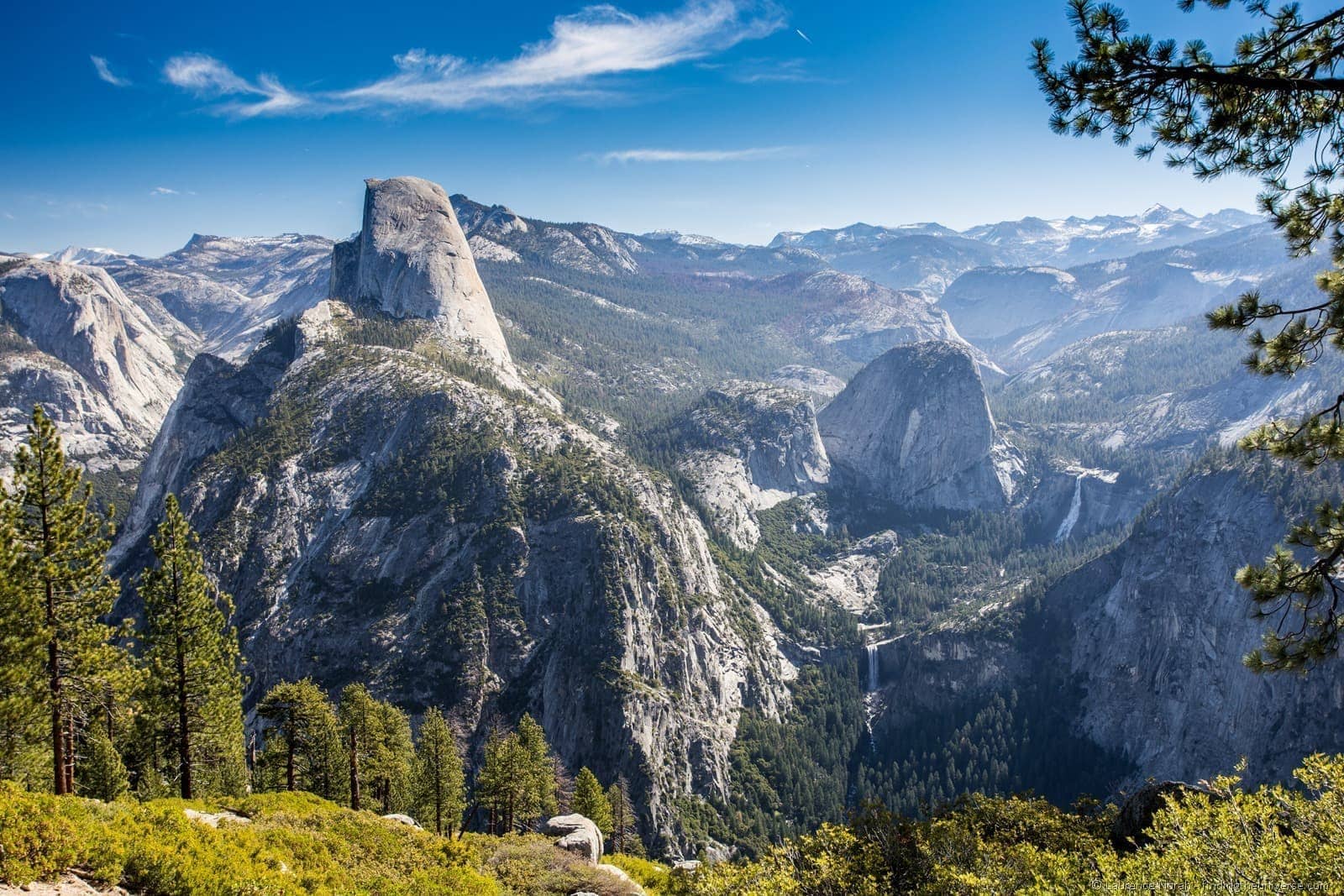 The view from Glacier Point is one of Yosemite National Park's most beautiful sites. From here, you may look down into Yosemite Valley and photograph Half Dome's profile while also admiring the splendor of Yosemite, Nevada, and Vernal Falls from afar.
It's a smooth carved granite face chiseled by moving glaciers over millions of years. This is one of those sights that will stay with you for the rest of your life. Several walking pathways lead along the precipice's edge, allowing you to gaze down into the valley far below. Because it's so accessible by automobile, this is also one of the park's most popular sites. It takes a little under a mile to walk from the parking lot to Glacier Point.
Hikers as little as ants seated atop the dome's curvature will be visible to those with a keen eye. If you arrive at sunset, you'll be rewarded with a painting show of pinks and lavender, the ideal way to cap off a day of hiking in Yosemite.
Tunnel View
It's one of the most accessible sites in Yosemite National Park, and it's also one of the most worthwhile. Tunnel View, high on the rim of the valley, overlooks Bridal Viel Falls and El Capitan's commanding face, is only off the main drive. Two very dramatic geologic features combine to provide one of Yosemite National Park's most iconic landscapes. Tunnel View is one of Yosemite's most popular attractions and the first stop after passing through a tunnel into the park.
Tunnel View is a high-altitude viewpoint that views out over a wide valley. Most of Yosemite's monuments and notable rock formations, such as El Capitan, Half Dome, and Bridalveil Falls, may be seen from this vantage point.
Yosemite was formerly encircled by a glacial ice sheet, but when it receded, a vast U-shaped valley and granite cliffs developed. What we currently know as Yosemite Valley is the result of millions of years of natural processes.
Marvel at El Capitan
This 3,000-foot granite slab was just made famous in Hollywood. Climbers have long attempted to scale El Capitan's face. It's regarded as one of the world's most technically difficult climbs, and standing at its foot and watching courageous individuals cling to its ledges is extremely enthralling.
If you come in the evening or early morning, you'll almost certainly be joined by some wildlife in the surrounding meadow and you'll have a chance to observe the flickering lights of those sleeping on the cliff's edge.
The Mariposa grove of giant sequoias should be seen
The Mariposa Grove of Giant Sequoias, located in Yosemite's southern section, is the park's largest sequoia grove, with approximately 500 mature giant sequoias. Because of their enormity, it's a terrific activity to do with kids in Yosemite; the sight of awe on their faces as they look up is something you'll never forget.
Visitors can reach here using a free shuttle service that travels round trip from the Mariposa Grove Welcome Plaza near the South Entrance to the Mariposa Grove. There is no shuttle service between Wawona and the Mariposa Grove, thus this is the only way to go to the Giant Sequoias.
If possible, arrive at the Welcome Plaza before mid-morning to get one of the 300 or so parking places available throughout the March to November season. Between November and March, the shuttle does not run at all due to unpredictable road conditions.
Watch the sun set by the Fire Fall aka Horsetail Fall
The Fire Fall in Yosemite is one of the most intriguing things to do in Yosemite, and it deserves its own mention. Because of its beautiful look, Horsetail Fall, a 1,000-foot waterfall that cascades over the east side of El Capitan from January to April, is known as the Fire Fall.
Horsetail Fall appears to be composed of embers at sunset due to the orange tint that illuminates the water pouring from the edge of the cliff. This natural spectacle can be seen from the El Capitan picnic area or from the nearby road.
Visit the Yosemite museum
The Yosemite Museum was the first museum built in the whole US national park system, and its educational programs served as a model for parks around the country.
It's a fantastic historical site with exhibits that span Yosemite's native Miwok and Paiute people's cultural history from 1850 to the present, as well as demonstrations of stone tool manufacturing, basket weaving, beadwork, and traditional sports.
Visit the sensational and reflecting Mirror Lake
Mirror Lake is one of Yosemite National Park's most underappreciated features. This tranquil walk through the woods leads to an astonishingly serene lake, tucked away from the valley's famed vistas. The neighboring granite peaks create a stunning mirage on the water's surface. It's an excellent spot for photographers to practice their skills. Wildlife sightings are common throughout the simple hiking track.