Miami is a diverse city with a plethora of must-see areas. And Miami is known for its diverse streetscapes, which include vibrant thoroughfares, bustling boulevards, and character-filled squares. We'll take a look at the most popular sites in Miami for a stroll or a drive, soaking in the various palette of this unique city. These are Miami's most popular streets, from ancient roadways to culturally charged avenues to modern and stylish boulevards.
Ocean Drive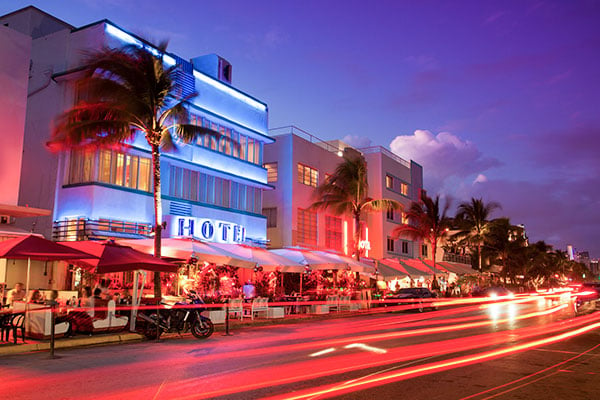 Ocean Drive is the archetypal Miami avenue, complete with attractive cafes, beachgoers, art deco buildings, and a thriving all-night music scene. With a series of bustling venues on one side and the beachfront Lummus Park on the other, the avenue runs parallel to the Atlantic Ocean on one side and the beachfront Lummus Park on another.
All of the big Miami-based films concentrate around Ocean Drive, which is the epicentre of the party-hearty Floridian metropolis we've come to know and love. It's swamped in hotels, restaurants, cafes, bars, and clubs as Miami's primary tourism and entertainment hotspot.
The entire route was designated as a pedestrian-only zone by a municipal decree in 2020. As a result, the bustling street will become even more vibrant in the next few years. Continue reading for our mini-guide to the best places to eat, drink, and play on Miami's most famous strip.
Calle Ocho
This stretch of road is known by many names, but whether you call it Tamiami Trail, SW 8th Street, or simply "Calle Ocho," it has long been the heart of Miami's Cuban population. It features well-known places like Domino Park (formerly known as Maximo Gomez Park) and the Tower Theater, which are packed with Cuban food, ventanitas, and captivating music. Explore Little Havana with the help of our guide.
Since the 1960s, Calle Ocho has been a haven for Cuban immigrants, and it's one of the few streets in America where you'd have a hard time asking for directions in English. Cigar shops, Cuban restaurants, movie theatres, and the Maximo Gomez Park is along this bustling street in Little Havana. At some of the renowned restaurants, such as Versailles, La Carreta, and El Exquisito, sample Cuban cuisine such as the Cuban sandwich or media noche.
Miracle Mile
Miracle Mile, one of Miami's oldest attractions, was chosen by the city's founder, George Merrick, to be the centre of Coral Gables. He chose this half-mile stretch of Coral Way as the location for Coral Gables City Hall and the major trolley stop in 1922. High-end shops, restaurants, art galleries, bridal stores, and, of course, the Miracle Theatre are all housed in the majestic Mediterranean structures, many of which were built during Merrick's reign. The Streetscape overhaul for the mile aims to make it more pedestrian friendly for shoppers while also giving it a French vibe.
Biscayne Boulevard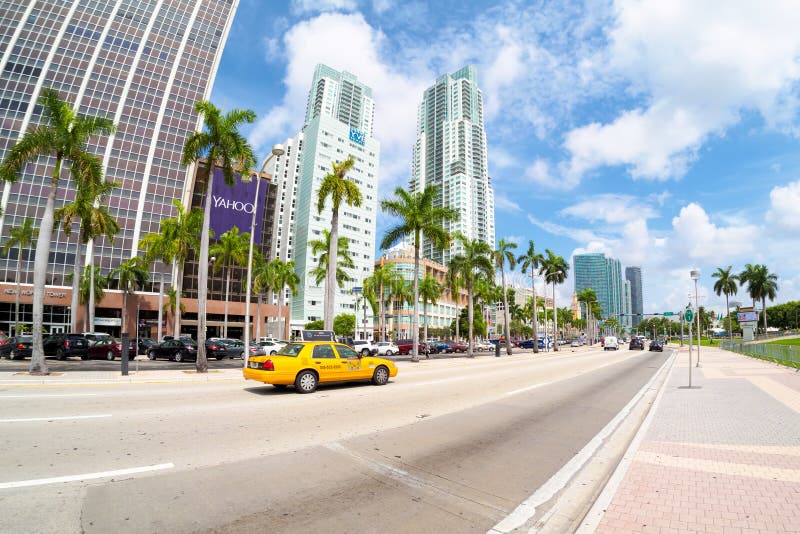 Biscayne Boulevard, which runs north to south through Wynwood and into Downtown Miami, is one of Miami's most major thoroughfares. With the vintage motels that surround MiMo, Miami's quickly gentrifying upper east side, the street comes into its own. This section of Biscayne Boulevard is full of character and retro charm, making it a terrific place to go for unique photography as well as old diners, cafes, and more.
Freedom Tower, AmericanAirlines Arena, the Adrienne Arsht Center, the Pérez Art Museum Miami, Bayfront Park, and the Bayside Marketplace are just a few of the attractions along Biscayne Boulevard.
Biscayne Boulevard is a stretch of US Highway 1 from Downtown to the Upper East Side, and all the way to the airport. Biscayne Boulevard, also known as the Gateway to Miami, was created as a palm-lined commercial strip during the city's land boom in the 1920s. When locations like the Vagabond Hotel became a favourite hangout for Frank Sinatra and his Rat Pack friends in the 1950s, the region achieved its pinnacle of coolness.
Downtown Flagler Street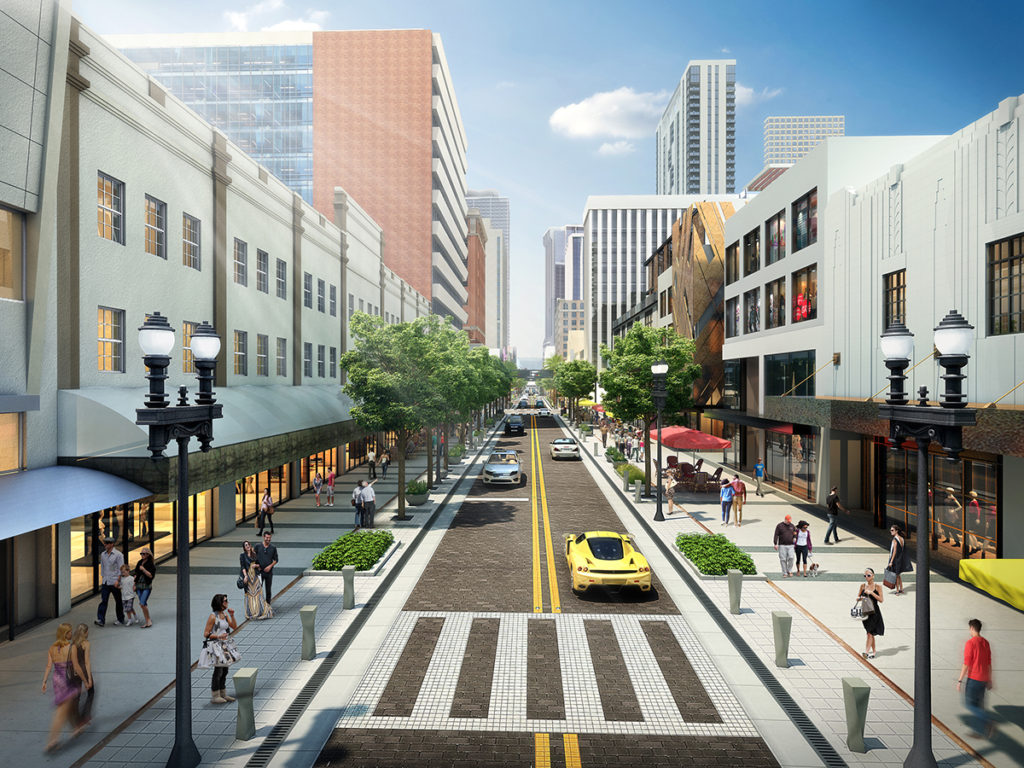 Although it appears to be such at times, this roadway was not always under construction. Since 1921, a street named after Henry Flagler has gone through the oldest area of Downtown Miami. Thanks to structures like The Olympia Theater and a lot of brick, it still looks like it's from another era. The architecture along Flagler Street demonstrates how much Miami has changed throughout time. It's a blend of antique 1920s-era structures with Miami's characteristic Art Deco architecture. It's also the official latitude base that defines the grid pattern of Miami-north Dade's and south streets.
Espaola Way
Espaola Way, with its lovely pink stucco buildings and Spanish tile roofs, is clad in colonial architecture and looks every bit a European street. The pedestrian-friendly boulevard, tucked in the heart of South Beach, makes for a lovely stroll beneath the shade of the trees or a coffee break with a dose of people-watching at one of its many cafés.
Espaola Way in Miami was established in the 1920s to provide a sense of Latin culture to South Beach. Since then, the street has remained at the heart of the neighborhood's cultural activity, with a diverse selection of restaurants, bars, cafes, and shops.
Espaola Way is a fully pedestrianised route that may be enjoyed at any time of day, but comes alive in the evening. Many of the restaurants here spill out onto the sidewalk, creating an inviting atmosphere for tapas and cocktails. The lovely vintage-themed Hosteria Romana and Havana 1957 are two of the greatest restaurants here.
Lincoln Road
Lincoln Road, not far from Espaola Way, is an outdoor mall with significant stores and restaurants. Apple, Victoria's Secret, and H&M are just a few of its prominent retailers. You can also see the Herzog & Meuron-designed futuristic parking structure at 1111 Lincoln Road, or dine on the rooftop restaurant Juvia for Asian fusion food and magnificent views of the ocean.
Whether you like it or not, you've definitely visited Lincoln Road Mall at least once, if not for the throngs of people and street performers, then for the New World Center or Colony Theatre. It was previously a mangrove wilderness, like much of Miami Beach, but now it's a pedestrian-only strip that meets with Alton Rd., full with restaurants, stores, and rows of perfectly maintained palm trees. Locals despise it for its chain stores and hawkers, but no one can dispute that it embodies the spirit of South Beach.
Brickell Avenue
Brickell Avenue connects US-1 and Biscayne Boulevard and passes through the Brickell commercial sector. It is widely accessible by public transit, including the free Metromover and trolley. The route, which is both vehicle and pedestrian-friendly, is lined with well-dressed businesspeople, banks, foreign embassies, and a few high-end hotels. The entrance to Biscayne Bay is just a few blocks away, where you can see yachts and high-rise condos while occasionally spotting dolphins.
NW 2nd Ave
The graffiti paintings that adorn Wynwood's new arts area may be seen all throughout the neighbourhood, but important stopping sites like Wynwood Walls, Panther Coffee, and an unending assortment of art galleries and concept businesses can be found directly on NW 2nd Avenue. In recent years, Miami's hipster district of Wynwood has become the main drag.
Panther Coffee, a bustling, artsy hotspot on NW 2nd Ave, is a must-see on any trip to NW 2nd Ave. A slew of high-concept boutiques line the street, selling anything from original artwork to designer sneakers.
Collins Avenue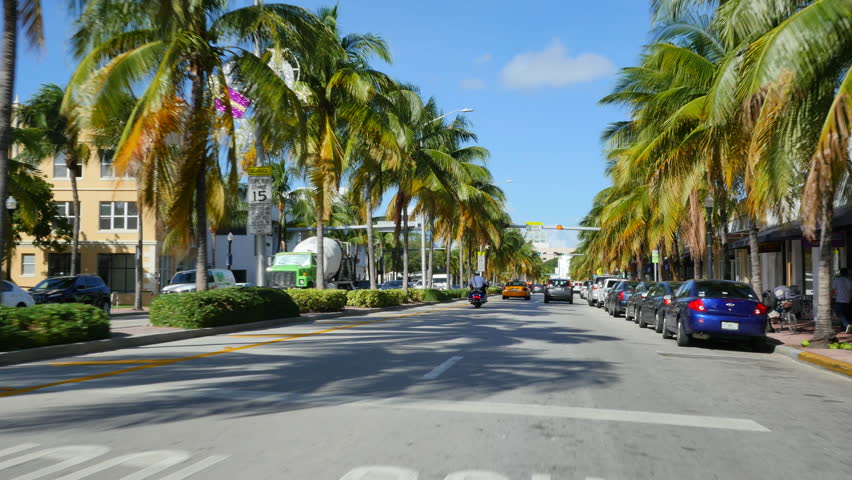 Along its 13.1 miles, Collins Avenue is one of the city's stately ancient streets, delivering a sample of everything that makes Miami famous. Retro art-deco architecture, towering palm trees, and regular views of the Atlantic Ocean may all be found here.
Legendary hotels such as the Eden Roc and the Fontainebleau, located on Collins Avenue, are great examples of the extravagant style that controlled Miami in the 1950s and 1960s. The Bass, a cutting-edge art museum presenting contemporary works from Miami and abroad, is another icon on Collins Ave.