For good reason, Miami is one of the most popular tourist destinations in the country (and the globe). This important city in Southeast Florida is located on the Atlantic coast, offering mild weather and a variety of outdoor activities to visitors and inhabitants all year. Miami has something for kids of all ages, whether they're older and love the outdoors or younger and prefer to have fun and play. That being said, let's look at the best 10 family things to do in Miami.
Phillip and Patricia Frost Museum of Science
The vast indoor educational playground is made up of four buildings. The downtown waterfront museum houses everything from an aquarium to a planetarium. Kids can participate in a variety of hands-on learning activities and workshops.
With so much going on, covering the entire area in one day with a toddler is impossible. The aquarium was a huge hit, with a large number of species and a lovely glass viewing tank. The onsite restaurant can get quite busy, but the food is good, so it's worth going for lunch before the crowds arrive. A day at the museum is undoubtedly one of the best Miami kid's activities.
Zoo Miami
Zoo Miami, which holds the distinction of being Florida's largest zoo, has much more to boast about than its size. You may have taken the kids to the zoo a million times at home, but Zoo Miami is the only subtropical zoo in the continental United States, which means it has a unique collection of species not found in other American zoos. It is over 750 acres in size and home to almost 3,000 animals. You'll witness elephants, rhinos, and hippos, as well as gorillas, vipers, and crocs. To wrap up your day, take a ride on the monorail to exhibits, splash about in the splash pad on hot days, or spin around on the carousel.
Although there are approximately three miles of walkways, children will be satisfied to ride the monorail or rent a safari cycle to see them all. Finally, there are animal interactions, shows, a splash zone, and the Children's Zoo, where you can feed and learn about various animals through special presentations.
Venetian Pool
This isn't just any public pool; it's the only one in the country to be listed on the National Register of Historic Places. It is also emptied and replenished on a daily basis by artesian wells. Families with children aged three and above can unwind while admiring the splendour of Mediterranean architecture. Explore a water tunnel, swim beneath a bridge, and climb up to a waterfall.
Even if it is crowded on hot days, this is arguably the most beautiful swimming pool in the world. It boasts an unbelievably gorgeous location as well as freshwater refreshed nightly from a subsurface aquifer during the summer months. Everyone is vying for a share of the pool. Joe Public is fortunate in that it is open seven days a week to the general public, but it is maybe best experienced when it is not swamped by toddlers and boom-box blasts.
Miami Children's Museum
The Miami Children's Museum is a hands-on learning centre with programmes, materials, and displays aimed at inspiring children's curiosity and creativity. With a range of interesting displays, the museum encourages playing, learning, imagination, and creativity in people of all ages. An art show, a music studio with gigantic instruments, a multisensory space, a re-created cruise ship, a fitness section, and more await you when you arrive. Role-playing, such as caring for stuffed animals with toy veterinary gear in the Pet Central zone, or virtually travelling over the ocean in Ocean Odyssey, are some of the ways these exhibits foster learning and curiosity. Biscayne Blvd Way connects the museum to the city centre, which is 3.6 miles away.
Wynwood Walls
Wynwood is a hip Miami district recognised for its artistic atmosphere. In the preceding decade, this neighbourhood has transformed from a drug-infested enclave to a haven for artists. The Wynwood Walls are a great example of how much has changed in just a few years. What was once an industrial yard has been transformed into an outdoor museum thanks to the efforts of Wynwood developer Tony Goldman. Artists from all over the world were invited to add their mark on the walls in whatever way they wished. As a result, a lively, eclectic collection of artwork in a number of genres and materials was created. You won't see the same painters on the walls twice because they are frequently replaced. The walls are open to the public Monday through Friday and are free to view.
Boardwalk
The beach's boardwalk stretches several kilometres. It's the ideal spot for some Miami family fun. It's a terrific place to run / jog with your baby in their stroller or go for a quiet family walk. Renting a bike is also a terrific way to explore as much as possible while having a great time! The scenery along the road is stunning, and people watching are equally fascinating. There are many opportunities to get out of the hot sun during the day because some of the boardwalk is shaded by plants, which is ideal for children.
FunDimension
FunDimension is a 15,000-square-foot family entertainment centre with a three-story indoor playground. FunDimension has exciting games and activities. An indoor playground, virtual reality, arcade games, bumper cars, laser tag, rock climbing, a 7D theatre, and other attractions are available at the centre. Adults can socialise while the kids play in FunDimension's bar and restaurant, which offers meals, craft beer, and wine. Adults can rest in the lounge area, which includes chairs, WiFi, and televisions with sports and entertainment, while the kids enjoy the activities. FunDimension is within 15 minutes from downtown Miami.
Zoological Wildlife Foundation
The Zoological Wildlife Foundation is a zoo and conservation centre with a diverse collection of rare and endangered animals. Over 150 animals, including panthers, owls, sloths,and lemurs, live at the zoo, representing both domestic and exotic species. The exhibit will include big cats, reptiles, raptors, monkeys, and domestic animals, with many of them available for up-close interactions and demonstrations. A private tour of the facility is also available, which includes more interactive experiences and photos with some of the animals. The zoo is about a 50-minute drive from the city's centre.
Marlins Park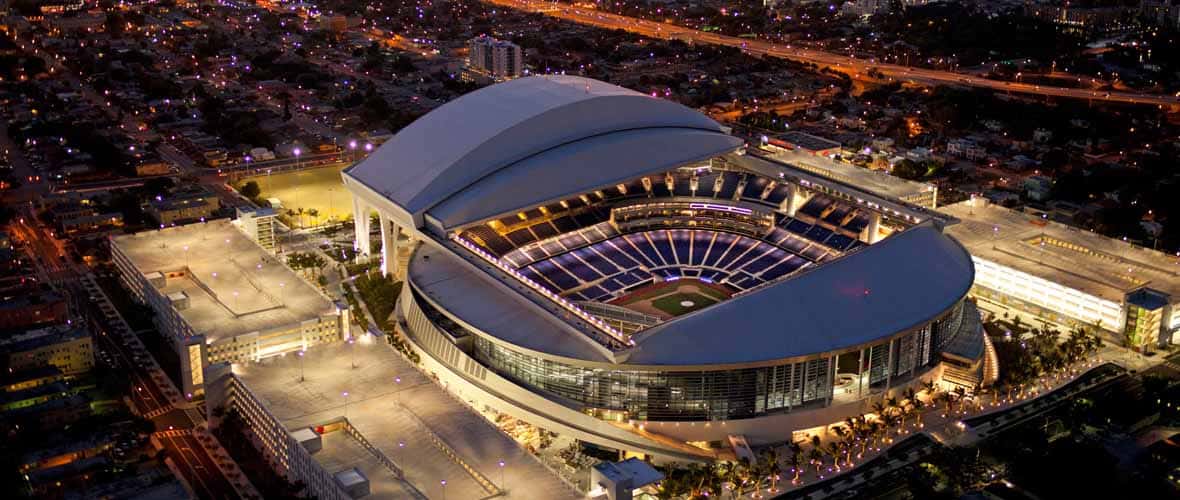 While residents are divided on how they feel about the new Marlins Park in Little Havana, it is undoubtedly a great option for families looking for a fun and active outing. The park is massive, and tickets are frequently inexpensive. If you go to a game on a Friday night, your kids will appreciate the added bonus of a fireworks show at the end of the night. Alternatively, purchase tickets for Sunday, when kids can participate in a Diamond Dash around the bases at the conclusion of the game. Best of all, children under the age of three do not require a ticket!
Seaquarium
Instead of letting your children run through the sprinklers and leaving a muddy trail through the living room, take them to the Miami Seaquarium the next time they want to splash around. At almost every popular marine show, the city's premier facility for marine life has designated splash zones. At the Miami Seaquarium, visitors will be able to swim with seals and dolphins, interact with penguins, and investigate touch pools. Flamingos, sea lions, sea turtles, manatees, and even a killer whale can be found. In the Sea Trek Reef Encounter, tourists wear a unique underwater helmet and stroll along a 300,000-gallon tropical reef. There is a pirate playground for kids to enjoy outside of the water.