Plans? Check. Packing? Check. Tickets? Check. Change of plans and easy to cancel policy? Also check! 
With Frontier Airlines it is now easier than ever for passengers to get their reservations changed OR 
cancelled when life happens. With their easy 24-hour full refund policy and refunds through ETC's 
here's the traveler's guide to getting cancellations and hopefully, refunds for passengers flying with 
Frontier Airlines.
24 Hours free Cancellation
Customers who have booked their reservations with Frontier Airlines can now get back a full refund 
if they wish to cancel within 24 hours from the time of purchase. No cancellation fees shall apply 
provided that the reservation has been made 7 days prior to the scheduled departure of the flight.
For passengers that get their tickets reserved within 7 days of the scheduled departure, on 
cancellation will be extended a line of Frontier Credit that they can use for future bookings with 
Frontier. A cancellation fee may also apply.
To Cancel bookings passengers can log into "My Trips" through the official Frontier Airlines Website 
at  or contact the Frontier Reservation Desk at 801-401-9000.
How to Cancel Frontier Airlines Cancellation
Follow these simple steps to cancel your Reservation. Refundability depends on the type of ticket you have. If you have a refundable ticket, you will get the refund within 5-7 business working days and the process time frame of your bank.
If you have a non-refundable ticket, you will get a voucher which is the same usable amount fo the original reservation. (Terms and conditions apply)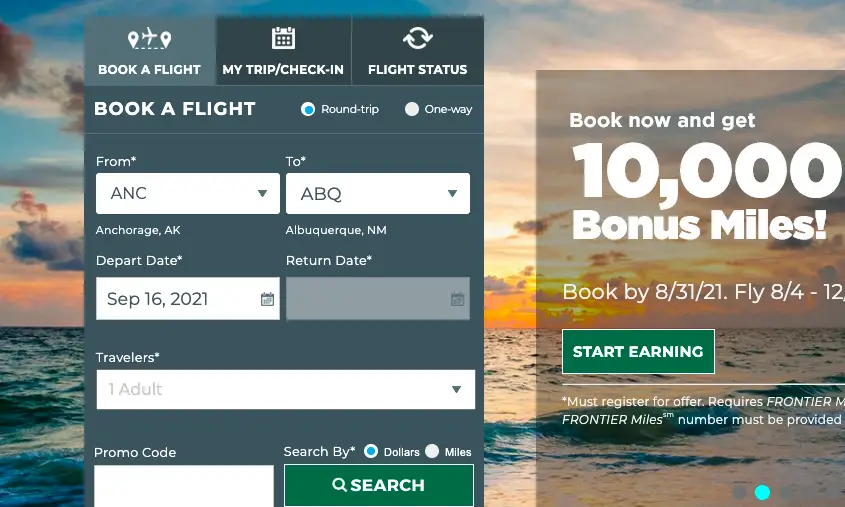 Step 2. Click on the option MY TRIP/CHECK-IN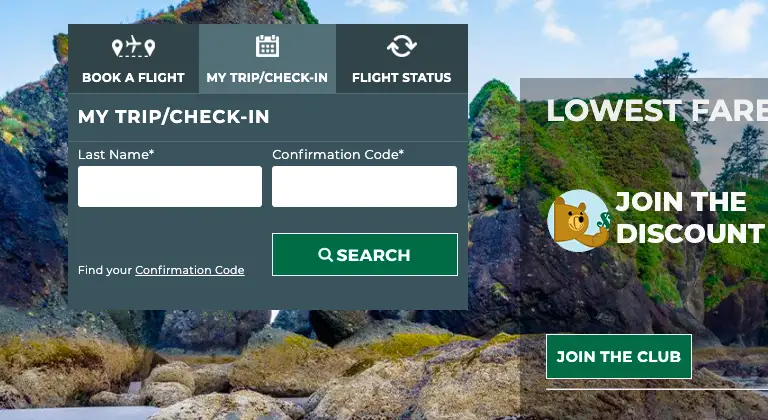 Step 3. Enter your confirmation number and the passenger's last name and click Search.

Step 4. Click on Cancel booking
When you click on cancel booking, you will go to the cancel page, all the cancellation details will be on the screen, make sure you read all the terms and refundability before you confirm the cancellation.
Cancelling a Non-Refundable Reservation
All tickets reserved with Frontier Airlines by default are non-refundable unless cancelled within 24 
hours from the time of booking and from 7 days from the flight's scheduled departure 
Tickets bought by passengers will include: 
-Passenger's 1 personal item 
-Option to change or cancel (change will include a fee and the difference in fare price) 
-Option of getting a same day flight (include an additional fee) 
-Option to transfer ticket, but subject to a fee + difference in fare 
Tickets shall not include: 
-Refunds on cancellations post 24 hours (only for reservations booked prior to 7 days before 
the flight's departure) 
-Pre-reserved seat assignment, all seats will be allotted at check-in 
-Carry-On Baggage  
-Checked Baggage 
-No Priority Booking 
WORKS Bundle Policy
Passengers can save on their travels by opting for a WORKS bundle at the time of booking their 
reservations for additional benefits and perks. Adding WORKS will provide passengers with:  
-Personal Carry-On Bags  
-Checked Baggage 
-Seating of Choice 
-Priority Boarding Ensured 
-Refunds on Cancellation 
-Option to make changes to flights 
WORKS bundle can be added into their reservation only at the time of booking of flight tickets on the 
official website and cannot be added to pre-existing bookings.
PERKS Policy
Another bundle that Frontier Airlines offers to passenger for a chance to save on their trip. Unlike 
WORKS, this bundle can be either be applied at the time of Frontier Airlines Reservations or while checking-in for your 
flight. Purchasing PERKS bundle provide the passenger: 
-Personal Carry-On Bags 
-Checked Baggage 
-Seating of Choice (Stretch Seats not applicable) 
-Priority Boarding Ensured 
PERKS bundle can also be added onto your prior reservations by going online and availing the bundle 
through the official Frontier Air website from the "Manage My Booking" section. This bundle can 
also be purchased through third party booking agents. 
PERKS bundle does not include option of refund or change of flights. 
Change of Reservation
Passenger can make changes to their travel itinerary by logging-in into "My Trip" on the official 
Frontier Air website at www.flyfrontier.com.
Change of travel itinerary will incur a chargeable fee and the difference in fare of the new booking. 
There will be no refund on residual value after change is made to existing itinerary, even on bookings of lesser value.  
Change of flight to a same-day flight is subject to availability. Passengers can change to either an 
earlier or later flight for a non-refundable fee applicable to each person. (exempted for passengers 
with FRONTIER Miles Elite membership OR for passenger who have availed WORKS bundle) 
Tickets must be applied for change before the scheduled departure of the flight. Inability to change 
or cancel will result in Policy "No-Show" and result in a service fee charge  
For Passengers who wish to avail the benefit of getting refunds or changes without any fee can avail 
WORKS bundle at the time of reservation. 
FAQs Frontier Airlines Reservation
Can i book for more than 10 passengers online? 
-Passengers who wishes to travel with more than 10 passengers can get Group Bookings 
what type of payments does Frontier Airlines accept?
-Frontier Airlines accepts American Express, Master Card, Visa, Uplift, Discover and does not 
accept Venmo, Samsung Pay, Apple Pay, Paypal or Google Pay.
what are the options to check-in for my flight?
-Customers can avail Check-Ins through any one of the following methods: Online Check-In, 
Mobile Check-In, Airport Check-In, Priority Check-In.
When can i check-in by baggages? What is the time-frame limit?
-It is mandatory for passengers to have baggage checked and boarding pass printed within 45 
minutes before departure for Domestic Flights and 60 minutes before departure for 
International Flights 
What is the minimum boarding time formy flight?
-Passengers are advised to be available and ready to board at the gate at least 30 minutes 
before the flight's scheduled departure (Doors will be closed 15 minutes before the flight's 
departure) 
What if i cancel my flight? will i get a refund?
-For passengers that has cancelled a reservation booked with vouchers, a new voucher with a 
new 90-day validity will be issued by the airlines 
Can i use the Voucheres which has been issued for another passenger?
-Vouchers are non-transferable and only redeemable in the name of the passenger that it has 
been issued to.
Can i use the Vouchers to pay for seats or bags?
-Vouchers can only be utilized at the time of booking and cannot be there after for existing 
bookings.
Can i convert or get refunds as cash for my vouchers?
-Vouchers are not redeemable for cash and are only applicable for one-time use 
Can the Vouchers be issued to another pax?
-Vouchers have to be issued in the exact name of the old reservation for use in the new 
reservation.
What if the Price is more than the Voucher amount that i have?
-Vouchers may not cover the entire cost of fare and additional purchases, all remaining value 
is to be paid in full by the passenger.
How long can i book the lfights in Advance?
-Frontier Airlines offers up to 12-months prior flight reservations.
Can i Carry pets on Frontier Airlines?
-Domesticated Cats and Dogs, Rabbits, Hamsters, Guinea Pigs and small house hold Bird can 
be carried on flight within the United States for a one-way fare of $99.
Do i have to pay book flights with Frontier Airlines for an Infant?
-Infants and Children up to the age of 2 years are allowed to fly free of charge.
What is the size of the bags i can carry with frontier airlines?
-Personal Bag Dimension: 14" height, 18" width, and 8" length, Carry-On Bags:  24" height, 
10" width, and 16" length, Checked Bags: 62 linear inches of length, width and height and no 
heavier than 50 pounds.
Contact Details
Passengers can contact Frontier Airlines for any comments, queries or complaints at: 
Address: 
Customer Relations 
Frontier Airlines 
4545 Airport Way 
Denver, CO 80239 
Contact:  
801-401-9000