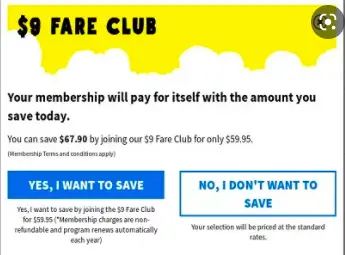 Most probably, you have signed up for spirit airlines Spirit Saver$ Club from which you get exclusive access for the lowest fares available as well as discounted fares on bags, seats, and for shortcut security, shortcut boarding or priority boarding, and flight flex. Though other airlines like southwest airlines give you access to shortcut boarding for about $15 (Earlybird check-in) and other airlines come with the type of ticket you buy.
If you sign up for Spirit Saver$ Club, you also get special deals available for $9 Fare Saver$ Club members. Both services save thousands of dollars if you are a frequent flyer or a traveler.
When you join Spirit Saver$ Club you will pay $59.95. And you have three different options, 12 months for $69.95, 18 months for $99.90, and 24 months for $129.90. Your membership is auto-renewed unless you decide to cancel. You will be informed via email or text before your membership is renewed.
How to cancel my membership?
The big question is how to cancel spirit Airlines' $59.95 membership. It is annoying to see charges every month on your credit card.
The best way to cancel your spirit saver club membership is by logging in to spirit.com and ->Log in to your account go to -> My account page -> select the saver$ club tab on the top -> and following the instructions to cancel your membership. once you complete the process, you will receive an email for successful cancellation.
Can I call Spirit Airlines to cancel my Membership?
Alternatively, you can call the spirit customer support number 855 728 3555 which is operational 24/7, but there will be a hold time in order to get in touch with an agent.
Note that after the cancellation, you no longer will have access to ultra-low-cost fares and pieces of baggage and seats. Also, there will be no refund after the cancellation.