Road trips have always been and will continue to be a popular hobby in the United States, because what better way to experience the vast array of magnificent coastal views, breathtaking valleys, and steep cliffs to lush woodland and endless desert terrains than to be free behind the wheel? In a country the size of the United States, there are several locations and detours to explore by car. These road excursions provide many opportunities for every type of visitor to see the United States, whether you're looking for panoramic vistas of the Pacific Ocean or a multi day excursion through national parks.
For approximately 2,370 miles, the eastern coast of the lower 48 United States borders the Atlantic Ocean. The Atlantic coast is bordered by 14 states. In addition, three more states, Pennsylvania, Vermont, and West Virginia, are called "East Coast" states despite the fact that they do not border the Atlantic. In addition, thousands of islands, islets, and peninsulas dot the eastern shores of the United States, from Maine to Florida.
Boston to Acadia National Park
There are numerous ways to see Boston, including self-guided walking tours, museum visits, and strolls through Little Italy and historic sites such as Faneuil Hall and the Boston Commons. Visitors can also take a harbor cruise or a Swan Boat ride in the Public Garden lagoon. Don't leave without trying their clam chowder and Boston cream pie.
The quickest journey takes approximately five hours and passes through Salem, Massachusetts, Portsmouth, New Hampshire, Portland, Maine, and Augusta, Maine's capital, before arriving in Bar Harbor. If you drive US Route 1 with a few detours, you'll get a taste of New England's scenery and history.
When traveling north on US Route 1 from Boston, you will cross the Mystic River. If you have time, look for the Yankee Division Highway heading east toward Gloucester, which is a fascinating detour if you want to view lighthouses, fishermen's memorial statues, and historic buildings. Back on the roadway, you'll head north, mostly a mile or so from the coastline, briefly passing through New Hampshire before reaching Portsmouth and entering Maine. Continue through beach towns and the Rachel Carson National Wildlife Refuge before taking a detour to Kennebunkport on State Route 9. Spend the night, eat Maine lobster, and tour the 400-year-old town's beautiful houses.
Take Route 9 around the coast, then Route 208 back to US Route 1. Continue on US Route 1 to Portland, which is also an excellent place to stay for the night. Four hours on the picturesque drive along the coast from Portland will get you to Bar Harbor and Acadia National Park.
Connecticut to Rhode Island
This 100-mile drive from New Haven, Connecticut, to Newport, Rhode Island, is another doable New England road trip. It's as simple as following US-1 and hugging the coast. This trip is a breeze for both Bostonians and New Yorkers, and it's jam-packed with underappreciated pizza, picturesque cliffs, and, of course, mansions.
When you visit Newport, go for a 3.5-mile cliff walk with magnificent bay views and views of the Vanderbilt home known as the Breakers, as well as other Gilded Age estates.
Hilton Head, Beaufort and Charleston, South Carolina
A vacation through South Carolina's beach cities and coastal plains will provide you with excellent hospitality, plenty of outdoor activities, local seafood, and regional delicacies. Spend a few days in Hilton Head relaxing on the beaches. Then, travel north to Beaufort for a stay at the historic Anchorage 1770, which offers stunning views from its rooftop patio. In the meanwhile, foodies should visit the Lowcountry Oyster Trail and downtown Beaufort. Then, drive to Charleston, a lively town and a gourmand's pleasure, where you'll find an almost infinite number of outstanding restaurants and martini bars.
Hudson Valley
Many New Yorkers will tell you that the Hudson Valley is a terrific place to visit no matter how much time you have—a day trip, a quick overnight, or a weekend break from the city, you name it. I-87 will take you upstate, through Beacon, Kingston, and Hudson. These locations can also be reached through a train journey. Simply board the Metro North.
Storm King, a 500-acre expansive lawn with sculptures aplenty and more in an outdoor museum, is a popular Hudson Valley destination.
Blue Ridge Parkway, The Carolinas and Virginia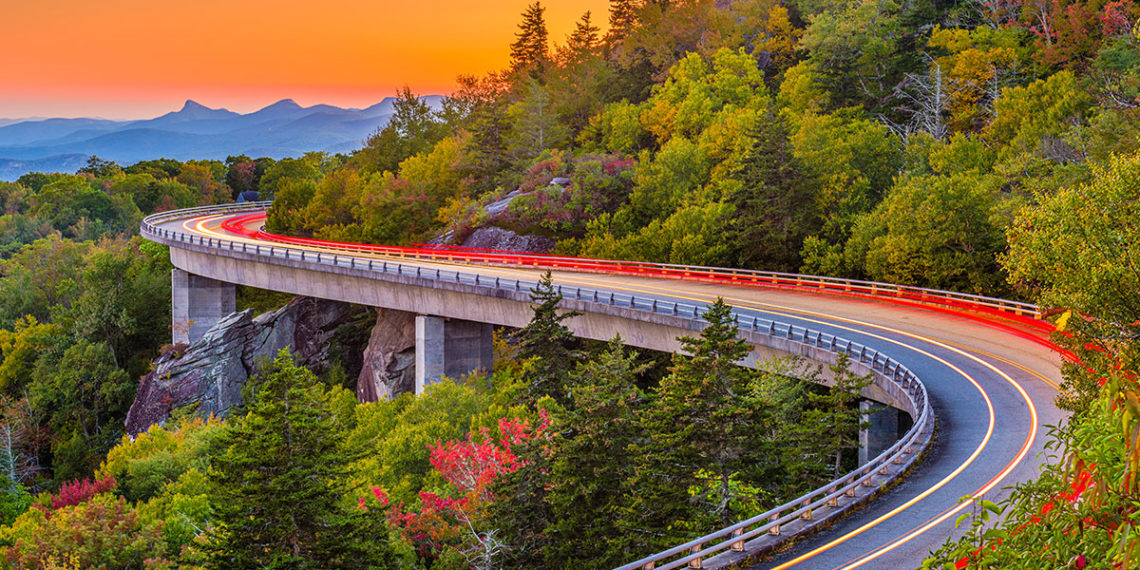 Through Virginia and North Carolina, the Parkway connects America's rich cultural legacy, from Cherokee life and agricultural history to Southern Appalachian crafts and music. The Blue Ridge Parkway, which spans through the southern and central Appalachians, offers views of the scenic scenery, which includes mountains and waterfalls.
To put it another way, the approximately 500 miles of blacktop that runs through the Great Smoky Mountains and Shenandoah national parks were created for visitors seeking Appalachian scenery. It's a panoramic excursion for all seasons, with undulating hills of colour in the autumn, a profusion of forest canopy in the summer, and ski resorts in the winter. The parkway has become a birder's paradise, with more diversity than the entire continent of Europe, with over 50 resident species.
Overseas Highway
For a tropical escape, take the Overseas Highway. During the 113-mile, sun-drenched journey, the route follows US-1, which connects the Florida Keys. The continuous road, which connects Key Largo to laid-back Key West, was built in 1928 and restored in the 1980s. Cruise across the world's longest bridge, the Seven Mile Bridge, while admiring vistas of towering lighthouses, beautiful coral reef parks, and white-sand beaches. Visitors visiting the Theater of the Sea can swim with dolphins and see ruins from the 1800s at Indian Key Historic State Park in Islamorada, which spans six of the Florida Keys.
Washington, DC to Outer Banks, North Carolina
The Outer Banks were recently named one of the top 50 sites in the world to visit before they perish. They're on the verge of extinction, making this one of the best east coast US road excursions you can take right now. And the location, beginning in Washington, DC, couldn't be more ideal. Before going to Williamsburg, Virginia, visit the White House and all of the other historical monuments. If you're into it, make a pit break in Virginia Beach before heading to the famous Outer Banks.