New York City is the most populous city in the United States, and it is frequently referred to as such to differentiate it from New York State. It is the world's largest metropolitan region by urban area and is located near the southern part of the state of New York. New York is known as the world's cultural, media, and financial capital, with a significant impact on business, technology, research, politics, entertainment, fashion, education, tourism, gastronomy, art, and sports.
Aside from its beauty and status as one of the world's most recognisable cities, New York is notorious for one thing in particular when it comes to city life: exorbitant living costs. Housing, clothing, food, transportation, and taxes must all be taken into account. They're all higher than the bulk of the cities in the country. That being said, here is your go-to guide to things to do in New York.
Getting to New York City
John F. Kennedy International Airport (JFK), Newark Liberty International Airport (EWR), and LaGuardia Airport serving New York City (LGA) are the three airports that serve New York. You may not always have a choice over the airport you fly into.
The Best Way to Get Around
While the subway and bus are practical modes of transportation, New York may be explored in a variety of ways.
-Walking: While it is true that New York is a large city, remember that one of the greatest ways to get around is by walking. If you choose a certain neighborhood to visit, such as Manhattan, you may easily spend a day going about and seeing the most iconic structures.
-Cycling: Alternatively, you can get on a bike and take a more active tour of New York. The city's bike rental service allows you to pick up a bike at a station and then return it to numerous locations throughout the city. Depending on how long you want to be out and about, you can rent the bike for an hour to a full day.
-Taxi: If you want to go around New York by car, the best option is to take a cab. Taxis in New York are metered, and you can pay with cash, a debit or credit card, or a combination of both.
Things to do
Statue of Liberty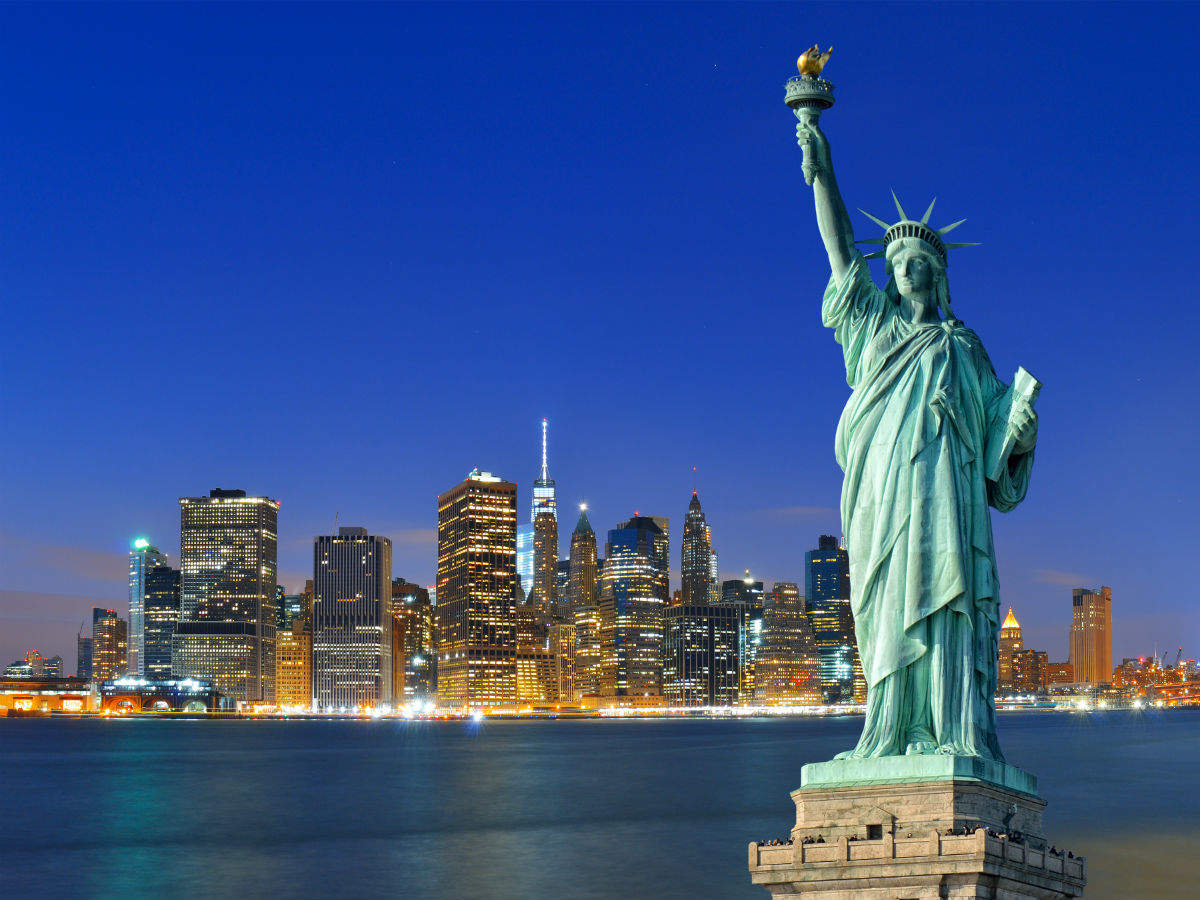 The 305-foot (93-meter) Statue of Liberty, guarding the entrance to New York Harbor on Liberty Island, was a gift from France to the United States to commemorate the 100-year anniversary of the signing of the Declaration of Independence Lady Liberty has been a symbol of democracy and hope for NYC and the United States almost since then.
The renowned, copper-green Statue of Liberty towers over a small island in New York Harbor, casting a protecting shadow over Ellis Island, home to a moving Immigration Museum. They served as an inspirational gateway for over 12 million immigrants between 1892 and 1924, and are still symbolic today. Both monuments are frequently visited as part of a combination ticket and should be reserved in advance, particularly for time in Liberty's pedestal or crown.
Central Park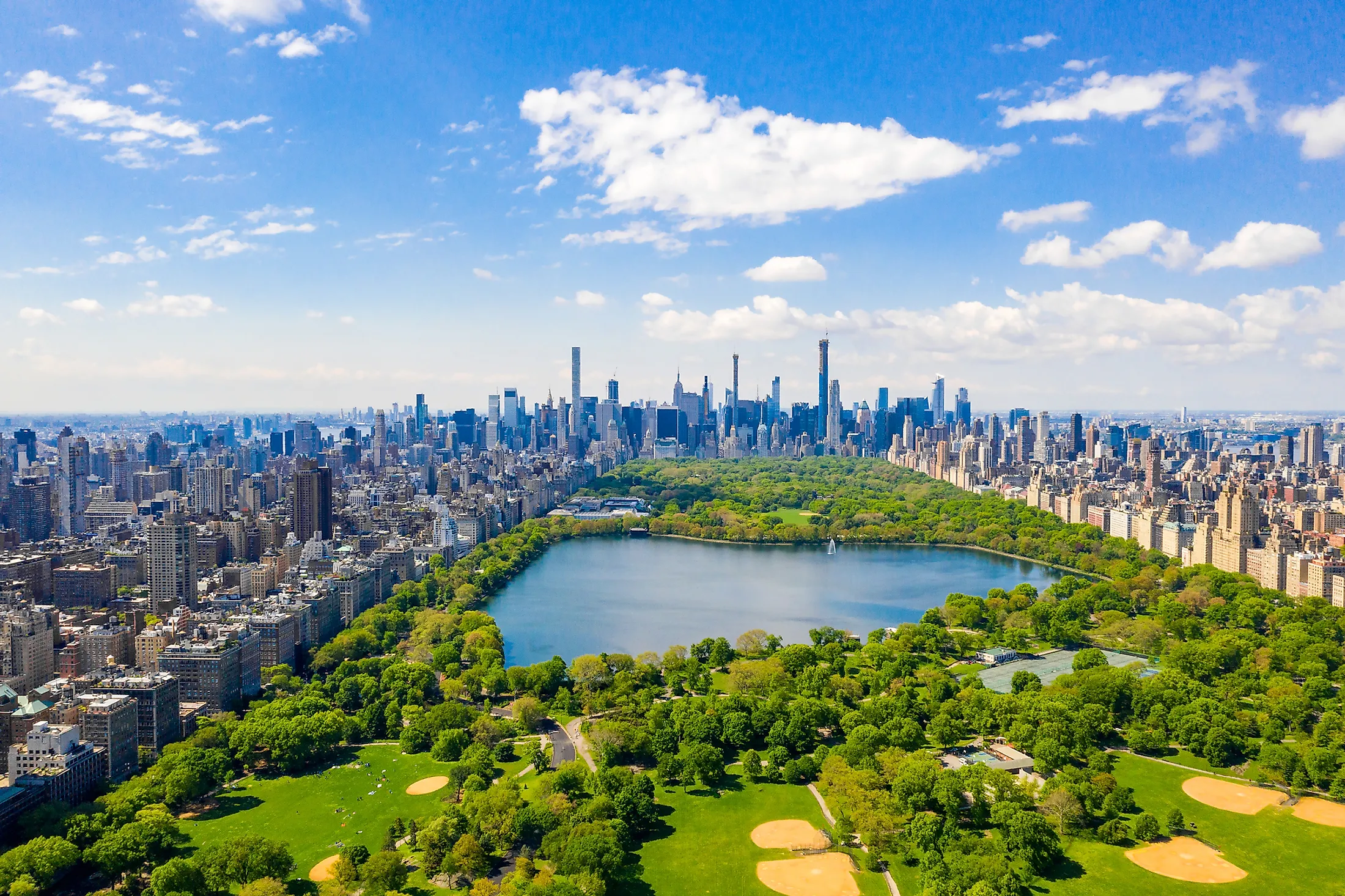 Anyone visiting New York City should take a stroll, bike ride, or carriage ride around Central Park's crisscrossing pathways. You can even put on your skates and skate over Wollman Rink in the winter. This vast park in the city center, which is a half-mile wide and 2.5 miles long, is one of the features that contribute to New York's pleasant and peaceful atmosphere.
Apart from being a terrific place to get some exercise, Central Park has a plethora of attractions, the majority of which are free, making it one of the few inexpensive things to do in New York. Strawberry Fields, Belvedere Castle, Central Park Zoo, and the Lake are among the most famous tourist attractions. Get a map at one of the visitor centers and plan your route if you're intending to explore the park on your own.
Edge Observation Deck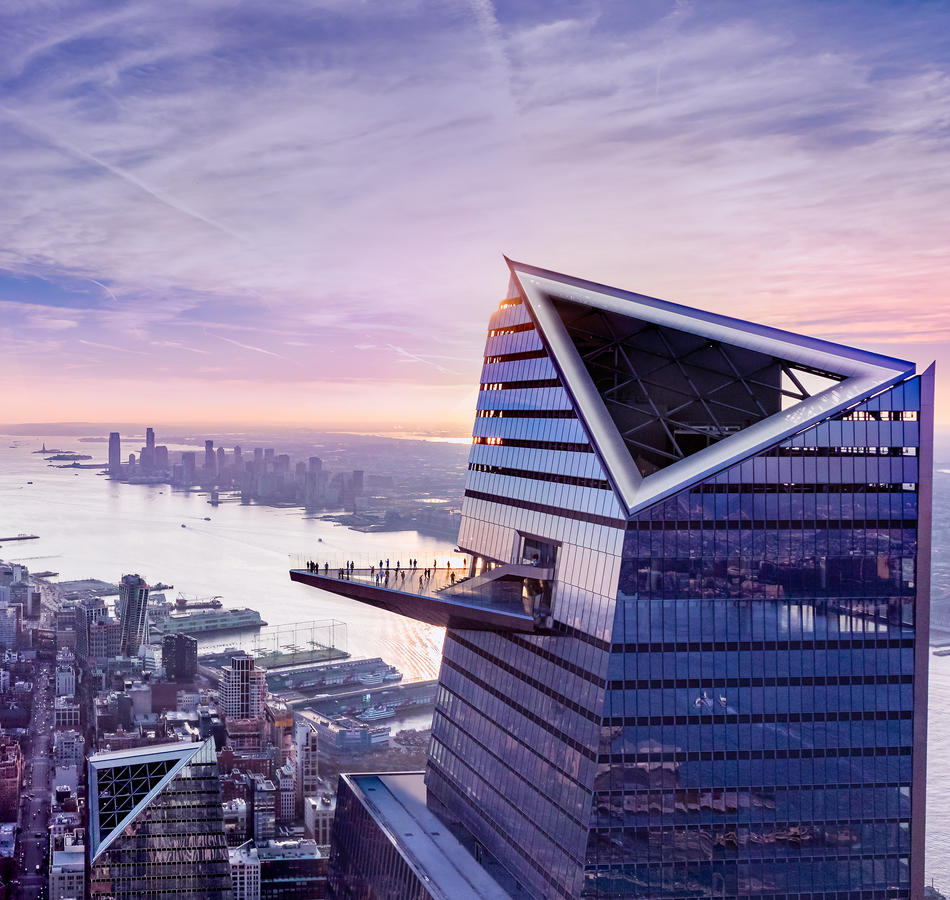 The highest outdoor viewing deck in the Western Hemisphere is now available at Hudson Yards. The Edge, a bird's-eye view attraction, will unfortunately not be open to the public until 2020. However, based on the rendering, it appears to be worth the wait—that is, if you aren't afraid of heights. The skyscraper's exterior terrace, which stretches 65 feet into the sky, is the city's highest public balcony. The terrace not only provides panoramic views of our city's skyline, but it also provides an excellent vantage point below. On a large, see-through glass floor 1,100 feet below, brave people can wave to passers-by. There's a 10,000-square-foot bar, restaurant, and event space on the 101st level, comparable to the Top of the Rock concept at Rockefeller Center.
The American Museum of Natural History
Visitors flock to the American Museum of Natural History, which is located on Central Park West. Whether you're viewing interactive displays on land, sea, or in space, user reviews have a common thread. This museum is incredible. It's worth stopping by the café and gift shop.
Because there are approximately 32 million artifacts spread across four city blocks, 25 buildings, and 45 display spaces, you won't be able to view everything in one day. Although the dinosaurs, the Hall of the Universe, and the Butterfly Conservatory are all worth seeing, the Rose Center for Earth and Space is a personal favorite.
Times Square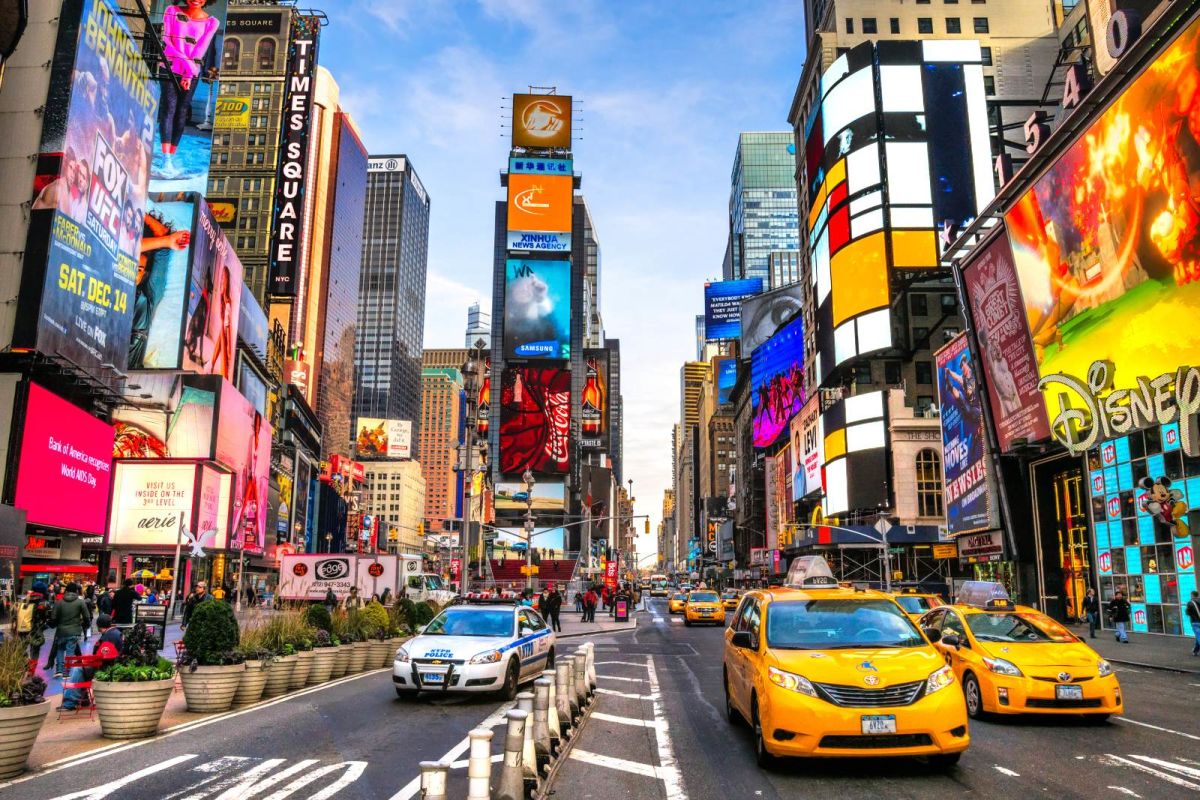 Times Square has views that are unlike anything else you'll see. With neon lights flashing, music booming from trendy clubs and bistros, and a significant number of people thronging the Square throughout the year, Times Square is a popular destination for locals and visitors alike. Some stores, such as the Disney Store, are required to be visited. There are several restaurants and cafes where you can unwind while admiring the night sky. People frequently see real-life celebrities here, but if they don't, they can always see their wax replicas at Madame Tussauds WaxWorks. NBC Studios is another major attraction in the neighborhood.
St. Patrick's Cathedral
This massive cathedral stands amid the frantic activity of Rockefeller Center, which is primarily secular. But that doesn't take away from the fact that it has an otherworldly vibe. Whether you're a devoted Catholic or just visiting for the architecture, you can't help but be impressed by St. Patrick's.
Travelers laud the beauty and stained glass windows of the small medieval church, but believe that seeing it does not take too much time. Previous visitors suggest visiting during the Christmas season to see the church in all of its glory.
Empire State Building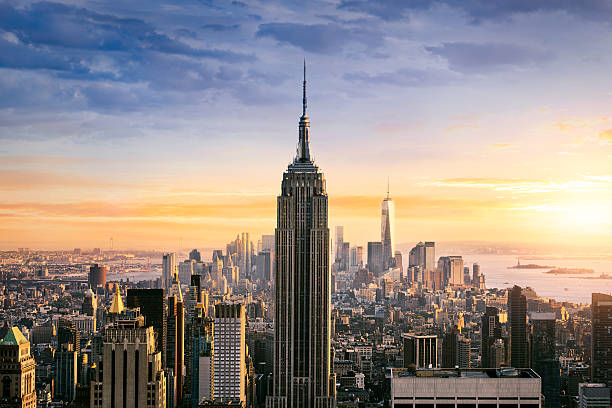 The Empire State Building, a majestic 102-story skyscraper in Midtown Manhattan, attracts visitors all year. The Empire State Building was nicknamed the "Eighth Wonder" when it was being constructed in the mid-1930s. Until 1972, it was the world's tallest tower. This limestone masterpiece was completed in only 410 days during the Great Depression, requiring seven million hours of labor. The Empire State Building, located in Manhattan, New York City, United States, is the world's most famous skyscraper. A lightning rod is located on the top of the Empire State Building, which is struck by lightning over 20 times every year. Both the 86th and 102nd floors include observation decks with great views of the city.
Grand Central Terminal
At this gorgeous train station, you may have lunch or shop till you drop, but recent visitors decided to simply soak in the scenery. Before entering, take a couple shots of the ornate beaux-arts neoclassical architecture on the outside. Inside the iconic main concourse, you'll find gleaming marble floors, gold and nickel-plated chandeliers, and a sky-themed ceiling. The cuisine ranges from gourmet to legendary to quick and easy. Although, as previously said, there are numerous shopping options, most travelers advise leaving the majority of Grand Central's high-priced items in the store. If you're looking for a train-themed souvenir, go to the New York Transit Museum Store in the shuttle tunnel.
The Metropolitan Museum of Art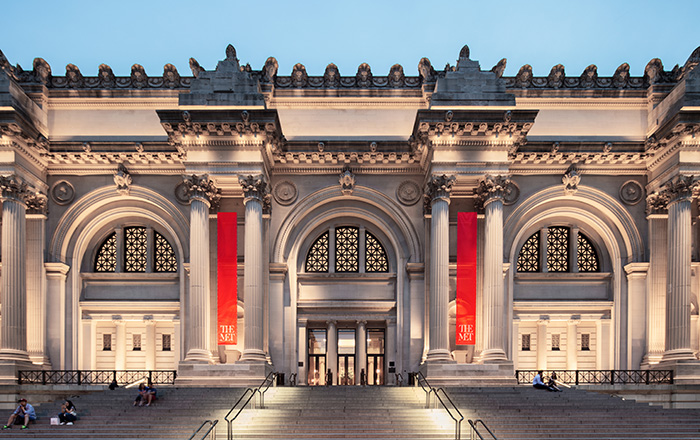 The Metropolitan Museum of Art (or simply the Met) was established in 1870. It houses some of the most valuable art collections in the world.
New York City's Metropolitan Museum of Art is the country's largest and busiest museum. It is home to great works of art that span over 5,000 years of world history and civilization. Work from ancient to relatively modern ages, as well as from all around the world, is on display. You may skip standing in queues and pay the same price as if you bought your tickets in person by ordering them online.
Wall Street
From Broadway to South Street, the world-famous Wall Street extends for eight city blocks. The New York Stock Exchange, the NASDAQ, and the New York Mercantile Exchange are just a few of the world's most prominent exchanges that are located on this street and in the surrounding area.
Nearby are the magnificent Trinity Church and Federal Hall. Look for the bronze statue of Charging Bull on Bowling Green on Broadway. Visitors will find this to be a terrific photo opportunity and one of the most well-known tourist attractions in the Financial District.