Mexico City may not conjure up visions of a "green city" as one of the world's greatest urban sprawls, but it actually has a surprising variety of lush escapes awaiting in its leafy urban parks, hiker-friendly forests, and fertile old gardens. It's crucial to know where to go for some peace, quiet, and the illusion of being outside of the city in a place as busy as CDMX. These grassy spots in Mexico City are ideal for reading, strolling, picnics, running, and playing with your dog.
Bosque de Chapultepec
Chapultepec, Mexico City's largest urban park, is the capital's lung, stretching over a thousand and a half acres. This urban oasis is rich not only in flora and fauna, with its own botanical garden, but also in art and history, with the Chapultepec Castle and some of the city's best museums, including the Museum of Anthropology, one of the best of its kind in the world, the Museum of Modern Art, and the Tamayo Museum. Weekends are spent there by locals wandering, visiting museums, paddling a boat on the lake, or simply resting.
Parque México, Condesa
Parque México, located in the posh Condesa area of Mexico City, is surrounded on all sides by restaurants, coffee shops, and just gorgeous Art Deco structures. Furthermore, the park features important Art Deco elements, such as the odd street signs that indicate your location and the gorgeous clock tower, which is a photographer's dream. Take your time and go on a weekday if you want to have the place to yourself.
Desierto de los Leones
The "Desierto" national park contains around 4,450 acres of green space ideal for cycling, hiking, and simply enjoying the outdoors. A 17th-century ex-convent established by Carmelite monks that functioned as a haven of retreat outside of the bustling capital may also be found. Keep in mind that Desierto is located outside of Mexico City's central business district; it's best to visit on the weekend when traffic is lighter.
Biblioteca Vasconcelos
The Biblioteca Vasconcelos is such a striking piece of architecture that visitors frequently overlook the perfectly charming, well-kept, and underappreciated gardens that surround it. Examine the well-kept lawns or visit the greenhouse, where you'll find a wide range of native Mexican plants and flowers. It's also the ideal hiding spot for a good book.
UNAM botanical garden
Visit the botanical garden on the volcanic ground of UNAM's main campus to see a completely different landscape. UNAM is one of the most significant universities in Mexico City and Latin America. The stars here are cactus and other succulents, but you may also observe the country's flora diversity, which includes plants native to jungles and woodlands. It is one of the country's oldest parks, with up to 24,000 native plant species, 300 of which are deemed to be endangered in some way.
Parque Alameda
The "oldest park in the Americas," Parque Alameda, was founded in 1592 and is located in the heart of Mexico City. This urban green space features gardens and paved walks filled with ornamental fountains and statues, as well as the ancient Aztec marketplace. In this gorgeous environment, there are enough seats to spend time watching people and their comings and goings.
Parque Hundido, Insurgentes
Parque Hundido, also known as Parque Luis G. Urbina, is a sunken urban park in the heart of the city that's ideal for people looking to get away from it all. There is a notable level of noise suppression due to its unusual recessed set-up, making it a perfect area for a calm stroll or an afternoon of reading beneath the Mexican sun.
Parque Lincoln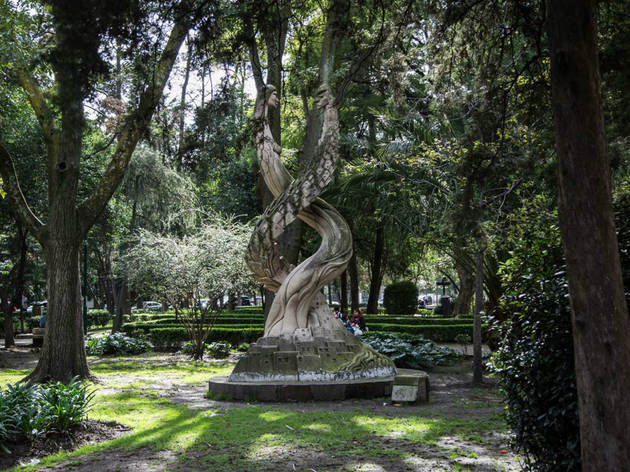 The relatively small but attractive Parque Lincoln, which is swamped with dog walkers (making it a must-see for dog lovers) and dotted with statues and art works, is one of Polanco's most pleasant locales. The magnificent white clock tower at the far end of the park, as well as the charming central lakes, are the park's most noticeable features. It's perfect for youngsters because of the well-kept children's playground and little plant nursery/allotment.
Parque Masayoshi Ôhira
Parque Masayoshi hira, often known as La Pagoda, is a lovely, calm park in Coyoacán's already popular and appealing southern neighbourhood. Given its proximity to two of the city's major motorways, Parque La Pagoda is startling how isolated it feels from everyday activity. As the name implies, this adorable place incorporates Japanese allusions and design, the most noteworthy of which is the little, red bridge, which is perhaps the centrepiece.
Parque Ecológico de Xochimilco
The canals of Xochimilco, a Unesco World Heritage Site, are the final remnants of a massive system of waterways that originally crisscrossed the Valley of Mexico. Hundreds of multicoloured gondolas (trajineras) cruise the canals every day, providing visitors with a glimpse of the city's pre-Hispanic heritage as the boats glide by chinampas, Aztec-invented man-made garden plots. Some of the best bird-watching chances along the canals can be found in the peaceful Parque Ecólogico de Xochimilco and the neighbouring Cuemanco waters.
Jardín del Alcazar, Bosque de Chapultepec
While the Bosque de Chapultepec, as Mexico City's lungs, is a fairly remarkable park in and of itself, there are plenty of minor jewels nestled inside its borders that deserve to be mentioned as well. The Jardn del Alcazar, often known as "the garden next to Chapultepec Castle," is one such garden. If you've visited the castle, chances are you've also visited the garden, and since both need payment, it's a good idea to make a day of it.
Plaza Rio de Janeiro
Plaza Rio de Janeiro is in the trendy Roma area, near the popular Panedera Rosetta and a slew of clubs and restaurants along Lvaro Obregon. It's a smaller park, but there are still enough trees and benches to sit and relax while people-watching or sipping a cup of coffee. In the centre, for some strange reason, there is a big fountain with a giant reproduction of David's statue.
Viveros de Coyoacán
Viveros de Coyoacán, Mexico City's tree nursery and park, is located in the Coyocacán borough. This park produces around one million seedlings each year to be used to landscaping public areas. Viveros is popular with runners and walkers due of its well-maintained track and paths, which are filled with trees, plants, and all things green.
Parque Bicentenario
Check out the Parque Bicentenario, one of Mexico City's newest parks, if you're seeking for some green space with a big dose of exciting urban renovation. The Bicentenario's backstory is as fascinating as the park itself. This enormous park began its life as a Pemex Oil Refinery in the heart of Azcapotzalco, a lively working-class, semi-industrial neighbourhood in northern Mexico City.
Barranca de Barrilaco
We found this park because Jorge's boxing team needed an outside venue to train during the epidemic, and it was conveniently located for everyone participating. It's a true treasure of a park that provides a true retreat from the city without actually leaving it. Because of its position in the Las Lomas area, it's a mountainous park (which translates to hills).