Greece is a popular location for everyone looking for the perfect Europe vacation because of the large number of cluster islands found in the Mediterranean. The raw beaches and natural landscapes make it a perfect location. From politics to philosophy, beaches to mountains, monuments to museums, culture to history, with cobblestone lanes ornamented with whitewashed buildings, stunning beaches, and serene sea vistas, as well as fascinating historical ruins, Greece is so much more than a tourist destination.
Samos is a huge island with something to offer everyone, from large beach resorts to rustic villages, forests, and historical attractions. Many ancient sites may be found on Samos, as it is an island with a lengthy history. Samos is an excellent spot to hike in addition to swimming in beautiful beaches and meandering through villages. Many hiking pathways wind through the island's verdant forests, leading to waterfalls and hidden bays. The island of Samos is notable for its rugged terrain. It's hilly and close to Turkey, and it's Greece's sixth largest island. Samos offers a diverse range of activities. This Samos vacation guide will show you the greatest places to visit and the most interesting things to do.
Heraion of Samos
This temple, together with Pythagoreion, the remnants of Samos' ancient town, is a UNESCO World Heritage Site.
This colossal Ionic temple to Hera, begun in the late-Archaic Period in the 6th century BC but with much older origins, was the first of Ancient Greece's large free-standing temples. It was the third structure to be constructed at this place, and it was never completed, with work continuing into the Roman period.
The temple was gradually destroyed and quarried for its marble during Byzantine times, as it had become obsolete as a pagan site of worship. Only one of the 115 original columns remains, although their torus-shaped bases may be seen in the ground. Architectural artefacts such as ionic capitals, cornice stones, and a set of headless votive figures, all designated with instructive signs, can also be seen here and there.
Pythagórion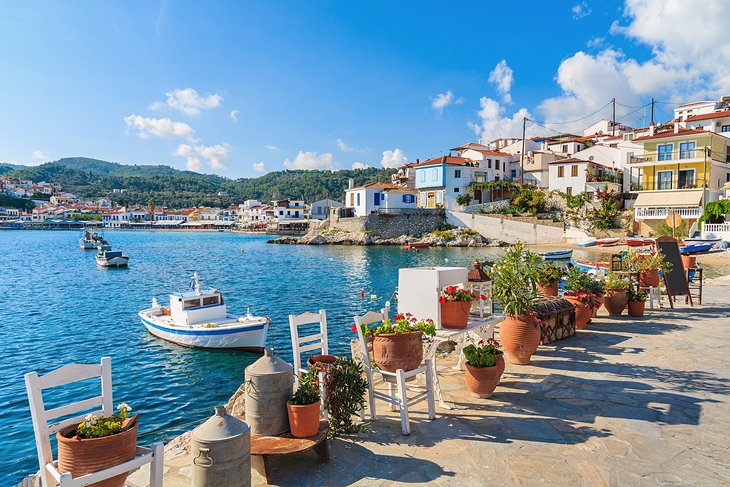 The charming tiny village of Pythagórion, on the island's south shore, was known as Tigáni until 1955, when it was renamed to honour Pythagoras, who was born here. It was formerly the historic port of Sámos, a prominent maritime and mercantile state in the sixth century BC, built around a protected bay today filled with fishing boats and sophisticated yachts and overlooked by cafés and seafood tavernas.
The ruins of Greek and Roman structures, as well as the remains of the ancient fortified harbour, can still be seen. A modest archaeological museum houses burial stelae (grave stones) from the Archaic and Hellenistic periods, as well as marble statues, coins, and ceramics discovered in the region.
Livadaki Beach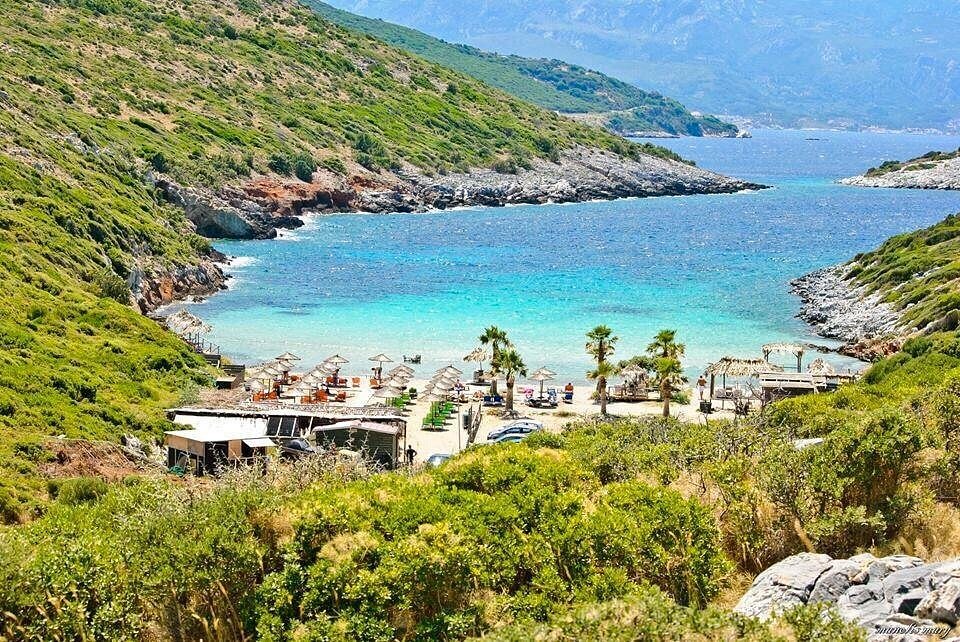 Livadaki Beach in Samos' north-eastern region is a true natural wonder. This lovely length of sand is tucked away in a hidden cove and offers the perfect combination of beach facilities like loungers, umbrellas, and a few restaurants/bars, as well as breathtaking scenery.
Despite the fact that the beach is frequently packed, it never feels overcrowded. The hills around the beach are ideal for treks and provide numerous picturesque sites with spectacular views of the Aegean Sea. Kayak rentals are also available, which are highly recommended because the view from the sea is much more magnificent than from the land.
The Eupalinos Tunnels
The Eupalinos Tunnels are another fantastic attraction that will provide some variety to your beach vacation on Samos. The tunnels run for more than a kilometre through Mount Kastro.
They were constructed in the 6th century BC as an aqueduct. Because of their historical significance as an engineering feat, the tunnels have been designated as a UNESCO World Heritage Site since 1992.
There are a variety of guided tours offered, each with a different length and level of difficulty. The tunnels are also an excellent way to beat the heat, as the temperatures here are consistently low throughout the year.
Panagia Spiliani
A monastery with a cave church is at a height of 125 metres on Mount Kastro, surrounded by cypress trees and looking out towards Anatolia. The cave, which stretches 100 metres into the rock and has been revered for millennia, is deceptively long.
The modest white Monastery of Panagia Spiliani (Monastery of the Virgin Mary Cave) was founded in 1586 on a slope behind Pythagórion. 95 stairs descend from the entrance into a spacious, calm, and peaceful cave with a little church at the end decorated with religious images. Amazing views down towards the town and across the sea to the Turkish shore can be had from the monastery. According to one theory, Pythagoras hid here in the 6th century BC from Polycrates, the Tyrant of Samos.
Kokkari
On Samos' northern coast, Kokkari is a popular destination. Despite the fact that the town has begun to attract more visitors in recent years, it has maintained its unique appeal.
A large pebble beach is located here, surrounded by typical Greek residences, restaurants, and small hotels. A little bluff at the eastern end of the beach provides spectacular views.
Many eateries and tourist attractions may be found on Kokkari's eastern end. Kokkari has a large number of excellent dining alternatives, most of which provide traditional Greek food, including fresh fish from the Aegean Sea.
Sámos Archaeological Museum
This museum, which is housed in the former mansion of the Prince of Sámos and a newer building across the street, exhibits discoveries from the Heraion (Temple of Hera). The main hall was expressly rebuilt to fit the most spectacular find, a massive sixth-century BC marble figure of an Archaic kouros that stands 4.8 metres tall (athletic young man).
It's possible that the figure is a Sacred Way votive statue. The body was discovered in 1980, and the head was discovered in 1984; the knee had been discovered 70 years before, in 1912. Hellenistic and Roman sculpture, as well as prehistoric ceramics, ivories, and bronzes, are among the other displays.
The Metamorphosis Church
The Metamorphosis Church, with its cruciform design and dome dates from the 1000s and combines Byzantine and Genoese architecture.
The set of marble columns supporting the dome, which were most likely repurposed from an antique monument, is the most intriguing element here.
You can struggle your way up the hill from the chapel to see the remnants of a Venetian castle.bRemains of gateways, towers, and curtain walls can be found in coniferous woodland with spectacular perspectives.
Tsamadou Beach
Tsamadou Beach is one of Greece's most beautiful, with crystal clear seas in a bay surrounded by thick vegetation. If you are hungry, there are a few bars around that provide delicious traditional food. The beach has sunbeds and the pebbles are gentle and simple to walk on, making it ideal for kids. Keep in mind that the eastern end of the beach is a designated nudist area when visiting.
Smaller bays to the east and west of Tsamadou Beach often include modest lengths of beach. If you're looking for a little more peace and quiet, they're worth checking out.
Mount Kerkis
Mount Kerkis, at 1,434 metres, is located in the centre of Samos' southern region and may be reached by a hiking track. There are plenty of additional hiking trails on its sides if you don't want to walk all the way up. The landscape near Mt. Kerkis also shows a less developed and serene aspect of Samos.
Only a few small fishing villages and one real resort area, Votsalakia, may be found here. If you want to go hiking up the mountain, inquire at this beach resort about the pathways. You can unwind on the lovely white-sand beach while you're here.