Thailand is a popular destination for honeymooners and couples seeking some alone time, thanks to its turquoise waters and gorgeous white beaches. Luxury resorts in this tropical paradise are usually quite reasonable, yet they also provide excellent lodgings and services. Thailand offers it all: the chaotic appeal of Bangkok, the enormous tropical jungles, some of the world's best street food, and endless stretches of palm-lined beaches.
Phuket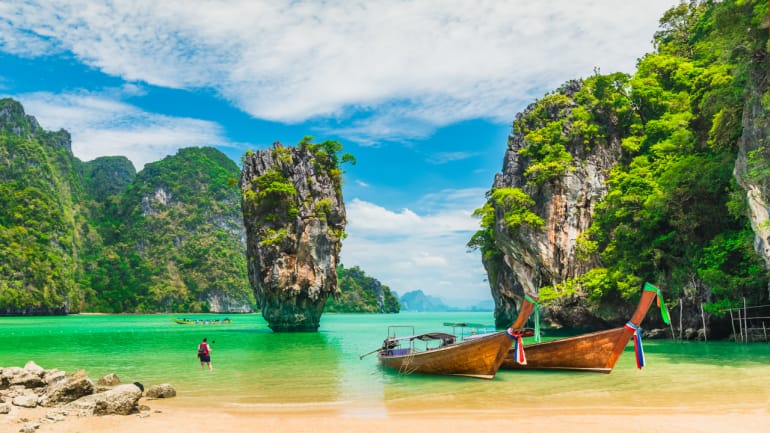 The beautiful beaches and pleasant climate of Phuket have virtually made it synonymous with a life of sunshine and sun loungers. With exquisite pool villas, world-class restaurants, spas, and giant malls, it's easy to see why it's the most popular honeymoon location.
There are so many things to do in Phuket that it's practically impossible to have a dull moment. Island tours and sunset sails are available. Private beach meals and stunning cultural presentations are available. You can go out and dance at one of the many pubs or simply relax with a drink at a beachside bar.
Scuba diving, snorkelling, bungee jumping, and zip lines are all popular activities in Phuket. Everything doesn't matter what you're looking for, Phuket has it. That is the essence of this place's attractiveness.
Krabi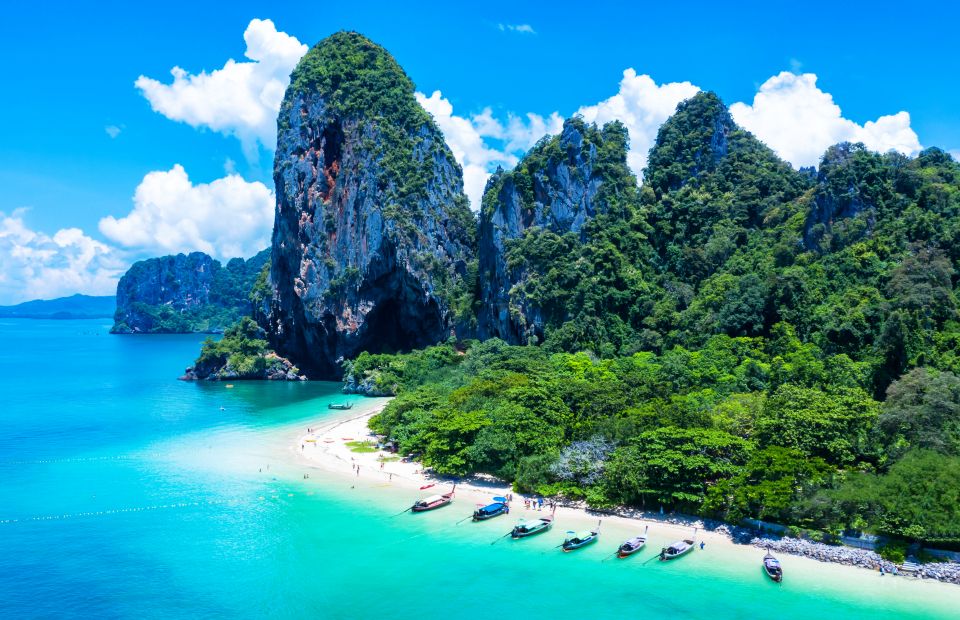 This network of 130 quiet and tranquil islands, enough to turn the earth into a paradise for love-struck couples, is one of the most romantic Thailand honeymoon places. Krabi is a paradise blessed with stunning scenery, caves, coral reefs, and unspoiled beaches, making it one of Thailand's greatest honeymoon destinations. Travel to Krabi to see the beautiful sunset and bask in the glory of love.
On the sun-kissed beaches of Krabi, you may relax and unwind. Take a boat cruise to see the islands. Enjoy a romantic candlelight meal on the beach with your loved ones while sampling the delectable seafood.
Bangkok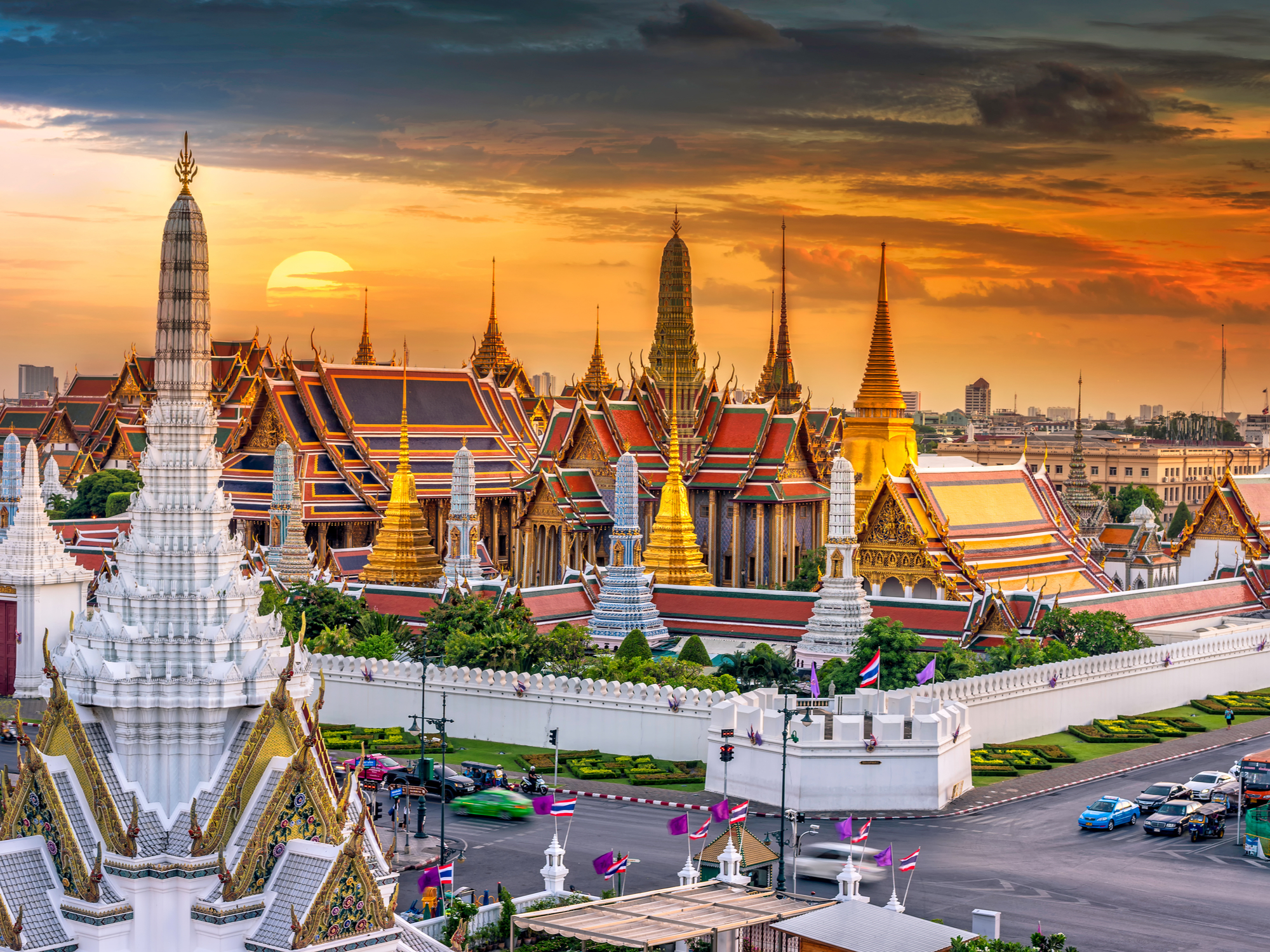 Bangkok, Thailand's hot metropolis, has some unexpectedly romantic gems provided you know where to look. Couples visiting the City of Angels can take in breathtaking views of the city's cityscape from Asiatique's enormous wheel or from one of the city's many sky bars. Take a private boat excursion around the Thonburi neighborhood's twisting khlongs (canals) if you want to get a little closer. Culture vultures will delight in the brilliant Siam Niramit spectacle, as well as strolling arm in arm through Lumpini Park and admiring Bangkok's numerous magnificent temples. Enjoy a couple's spa treatment, great dining, and accommodations at some of the country's best hotels.
Koh Samui
Koh Samui is often regarded as one of Thailand's most romantic places. The island, which is located in the heart of the Thai Gulf, is surrounded by magnificent palm-fringed white-sand beaches, as well as vast, lush foliage and mild hills inland. Many of the island's gushing waterfalls can be conquered, or the blush-inducing rock formations of Hin Ta and Hin Ya can be discovered (resembling male and female genitalia). Couples will appreciate the abundance of beautiful spas, many of which provide special treatments to enjoy together after a long day of touring. Many good restaurants offer candlelit dinners, as well as sophisticated bars where you may sip cocktails while watching the sun set beneath the sea. You'll find everything from opulent resorts to tiny, rural guest houses when it comes to lodging.
Phi Phi Islands
The Phi Phi Islands, one of Thailand's most unique locations, are one of the most perfect and greatest places to honeymoon in Thailand. Aside from the beautiful beaches, the exotic Thailand honeymoon resorts and villas add to the luxury, tranquillity, and comfort that couples can enjoy while on vacation here.
The Phi Phi Islands, a beautiful land in Thailand, will captivate you in practically every way. You will have a good time in that location. Spend your days on the beautiful beaches and your evenings with your spouse in one of the magnificent villas. Because this location is only accessible by speedboats and ferries, it is ideal for couples looking for some exhilarating water sports. This location in Amazing Thailand will undoubtedly provide you with much-needed contentment and peace.
Similan Islands
Get away from the crowds and spend some time on Thailand's beautiful Similan Islands. The archipelago, which is located in the Andaman Sea off the coast of Phang Nga Province, features some of Thailand's most pristine beaches, complete with silky white sand and crystal-clear water. Hike with your partner and see a variety of animals such as birds, reptiles, and small mammals. Snorkeling or diving in the pristine ocean, where schools of tropical fish swim through the seas past intriguing rock formations and coral beds, is an underwater adventure. After that, relax and withdraw from the outside world by staying in a rural bungalow under the stars.
Koh Lipe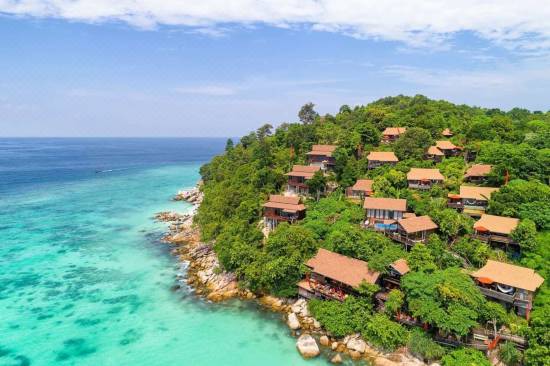 Koh Lipe is the exotic Thai island you've always fantasised about visiting. It was Thailand's best kept secret a decade ago, but today visitors are steadily pouring in, resulting in the development of ocean front resorts and luxury villas.
While it is a small island, it contains everything you need for a relaxing vacation. The sand is milky white, and the ocean is electric blue. Check. Restaurants in the area that serve delicious food. Check. The lush green jungles that lead to the beaches are a sight to behold. Mate, take a look.
Because it is part of a national park, the water is crystal clear and teeming with tropical fish and vibrant corals. Scuba diving around the island is an amazing experience, and one of Thailand's best. Look no farther if you're seeking for a romantic getaway away from the masses.
Chiang Mai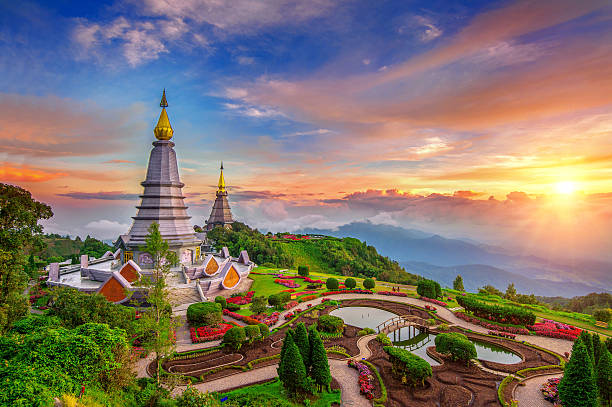 Chiang Mai is a country of natural beauty, rich history, friendly people, and traditional cuisine. The city is surrounded on all sides by a red wall that harkens back to its former glory. However, once you enter the city through its wooden gates, the world changes dramatically.
Western restaurants, cafes, clubs, and five-star hotels with swimming pools fill the streets. Canals, Buddhist sanctuaries, and street markets can all be found nearby. The old and the modern simply merge together.
Hikers will love the city because it is surrounded by jungles and mist-covered mountains. Many adventure activities, such as ziplining, river rafting, and rock climbing, are possible due to the terrain.
There are a variety of activities for the eccentric visitor, including Thai culinary workshops, elephant training, night markets, prisoner massage, and monk chat programmes. These one-of-a-kind experiences are what draw visitors to this section of Thailand. Chiang Mai will appeal to foodies in particular. Its traditional Thai food with a tinge of Burmese influence is sure to please.
Ayutthaya
Stepping back in time to visit one of Thailand's most historic landmarks has a nostalgically romantic feel to it. Ayutthaya, the old Siamese capital, has a plethora of ruins to see, including Wat Mahathat, Wat Yai Chai Mongkorn, and Bang Pa In Palace, which is just a short drive from the UNESCO-listed historic centre. Watch how beautiful elephants stroll over centuries-old streets and ruins, leaving just tracks behind. The Ayutthaya Night Market and Ayutthaya Floating Market are great places to go shopping for local souvenirs before spending the night in a posh hotel or a traditional wooden home on stilts.
Pattaya
Pattaya is a beautiful spot for honeymooners and is one of the top places in Thailand for couples. The beaches of Hat Sai Kaew (Diamond Beach) and Koh Samet are wonderful places to start your trip because they're filled of colourful food vendors, beach umbrellas, and beautiful beach resorts. Koh Larn (Coral Island) is known for its glass-bottom boats that provide spectacular views of the coral reefs, and it is also a popular site for outdoor hobbies like parasailing and windsurfing.
Head to Chanthaburi Sapphire Mine for a quick sightseeing day excursion from Pattaya–organized tours will give you a fascinating insight into the centuries-old mining in the area. Alternatively, go to Siam Pattaya, an outdoor park with small replicas of iconic landmarks such as the Statue of Liberty, Angkor Wat, and the Bridge over the River Kwai.
Wat Phra Yai Temple is the one to visit if you only have time to view one temple while you're here. This wat, also known as Big Buddha Hill, is home to an 18-meter-tall golden Buddha that stands guard over the entire town.
Try some of Pattaya's museums, such as Ripley's Believe It Or Not and Art in Paradise, for a pleasant, relaxing afternoon.