The first thing that springs to mind when thinking of Florida is certainly its beaches. The Sunshine State has almost 1,200 miles of shoreline, so there are plenty to go around. When it comes to picking a beach campground, the season and the type of shelter you choose are also important considerations. Tent campers are more vulnerable to weather than RV campers with access to heaters and air conditioning. While some campgrounds appeal more to RV campers than tent campers, most Florida State Park campgrounds accommodate both. Whatever camping rig you bring, a seaside campground will be able to accommodate you, and many will even let your pet.
We've gathered information on all the sites to camp, as well as suggestions and insights, to help you get started arranging your camping trip.
Curry Hammock State Park
Curry Hammock State Park is one of the best beaches for camping in the Florida Keys. The water is shallow, the waves are gentle, and the currents are often weak, making it perfect for families with little children. The day-use area or the campsite are also good places to launch kayaks and canoes. The cost of a campsite is $36 per night plus a $6.70 reservation charge. Seniors over the age of 65 and active military personnel receive discounts.
Biscayne National Park
Although the park is mostly underwater, there are several subtropical islands near Miami (for experienced campers). These islands have no automobiles, roads, or bridges, so you'll need to bring your own boat or arrange transportation. The largest island, Elliott Key, is covered in tropical hardwoods and has flush toilets, cold showers, and running water. There are saltwater flush toilets on Boca Chita Key, but no fresh water. During the warmer months, mosquitoes and no-see-ums can be a problem. Small and rocky, the beaches are great for fishing and snorkelling (Florida saltwater fishing licence required).
Bahia Honda State Park
Bahia Honda is one of Florida's most gorgeous parks, located at mile marker 37. The campground in this park is one of the most popular in the state, with lush coconut palms against a backdrop of white beach and gorgeous tropical waters. It also has some of the greatest beaches in the Florida Keys. Tents and RVs are welcome in three campgrounds with a total of 80 spaces.
If you don't want to rough it, there are three duplex cabins available.
Turtle Beach
Turtle Beach had been a private campground since the 1920s, but Sarasota County purchased it in 2006 for the purpose of expanding Turtle Beach Park. With 39 covered RV and tent sites with full hookups and complimentary Wi-Fi, the campsite is a small sliver situated between the park and a residential area. The campsite road goes across the centre, providing direct access to the beach. In the nearby park, there is a kayak launch spot. There are no pets allowed. The nightly rent ranges from $42-$51 depending on the season, with weekend and holiday add-ons of $5-$7.
La Costa Island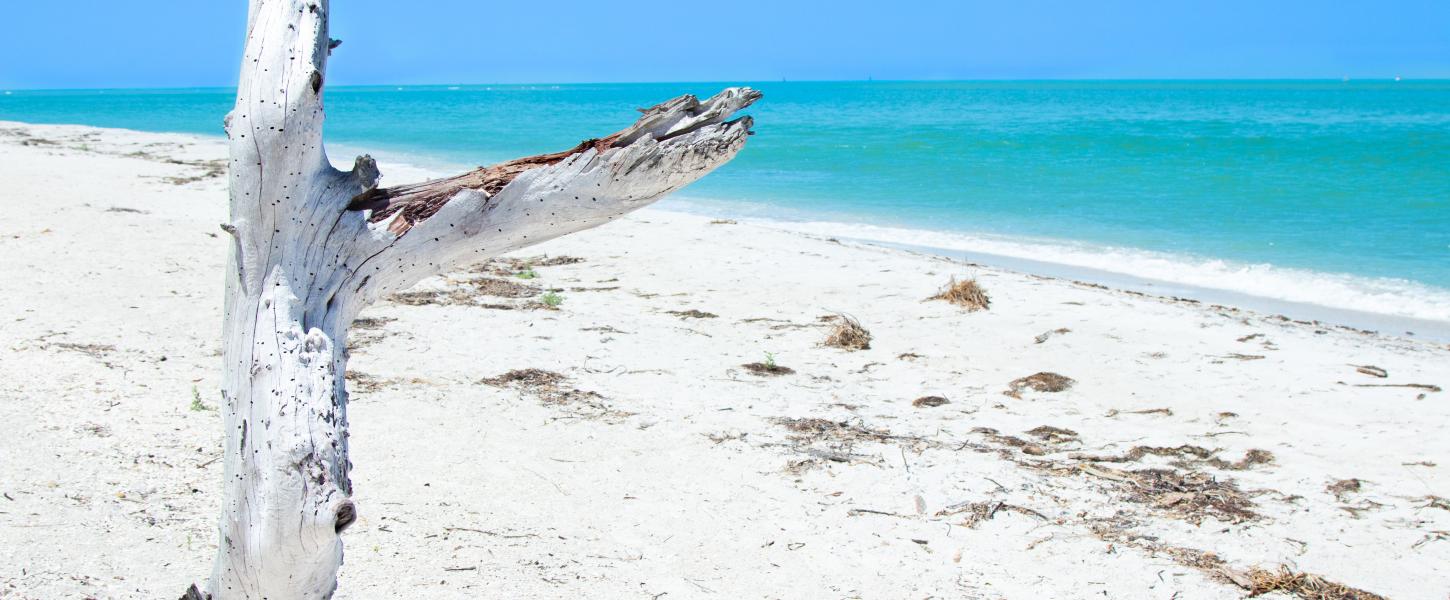 Because there are no roads or bridges to this island, the Tropic Star ferries passengers to Cayo Costa State Park every day from Bokeelia on Pine Island. Between North Captiva and Boca Grande is La Costa, a rather large and completely uninhabited island. Behind the modest dunes, the camping area is just steps away from a crescent-shaped beach. There are several 6-person cottages available, however none of the sites have electricity or running water. There are showers and flush toilets, as well as drinking water. It's possible that you'll have the beach almost entirely to yourself.
St. George Island State Park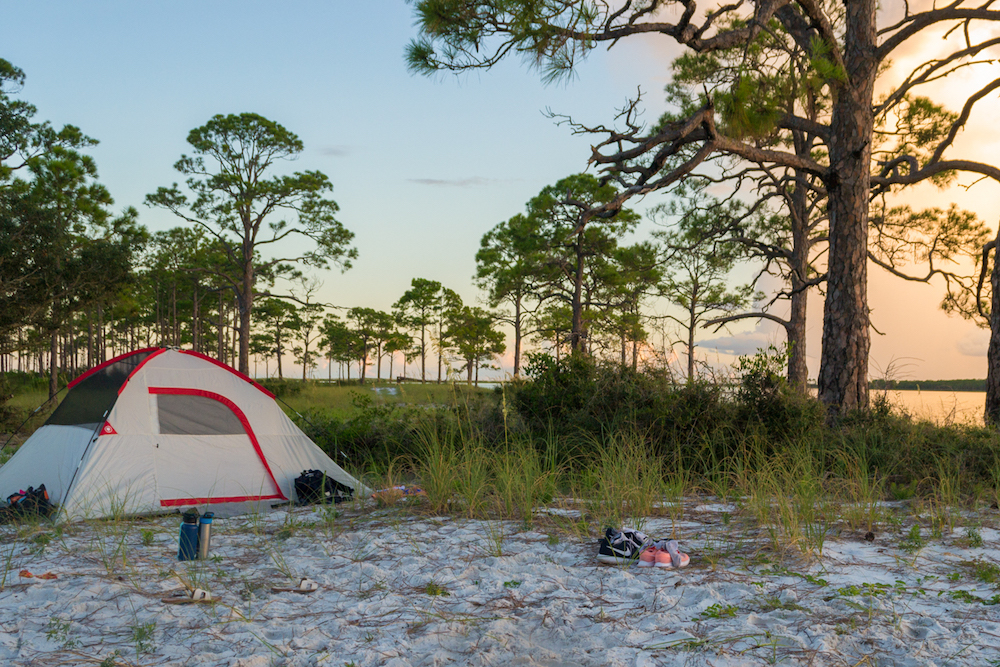 The park's white-sand beach, which stretches for 9 kilometres, is breathtaking. The campground is set behind a dunes wall, just a short distance from the Gulf of Mexico. There are 60 sites with electricity and running water, as well as six concrete pads. There are two natural launch ramps on the bay side. The cost of camping is $24 per night, which includes water and electricity. The per-vehicle day-use price is $6.
Pensacola area
Johnson Beach, on Perdido Key, is part of the Gulf Islands National Seashore and allows rustic camping as well as sand hiking on its extreme eastern side. The environment of this tranquil spot is made up of sugar-white sand, rolling dunes, and marshes. Big Lagoon State Park, located just across the bridge from Perdido Key, spans 655 acres and includes beaches, shallow bays, nature paths, and open woodlands. With 75 campsites (RVs and tents) provided with water and electricity, it's a refuge for nature enthusiasts who enjoy kayaking, hiking, fishing, birdwatching, and other outdoor activities. On the west end of Pensacola Beach, Fort Pickens has a historic fort and 200 campsites with water, electricity, and picnic tables (tents and RVs up to 50 feet).
Jetty Park
The vast and hard-packed beach, where you can ride a fat-tire bike for kilometres, is just a block away from the camping and cabin sites. If you're lucky, a rocket launch from the space centre will be taking place, this is the place to be. There are water and electric hookups at all RV sites, but only 13 have sewer hookups. Water is available at the rustic tent sites. With a patio, grill, picnic table, A/C, fridge, and bathroom, the four-person cabins are tiny but efficient. There are no kitchens or showers, but a central bathhouse is available. Cabins cost $120 per night and include linens. Off-season primitive tent sites cost $27, and in-season primitive tent sites are $37. Full hookup RV sites are $39 in the off-season and $49 in the summer. Subtract $5 if you don't have sewer.
Fort DeSoto's Tent Campground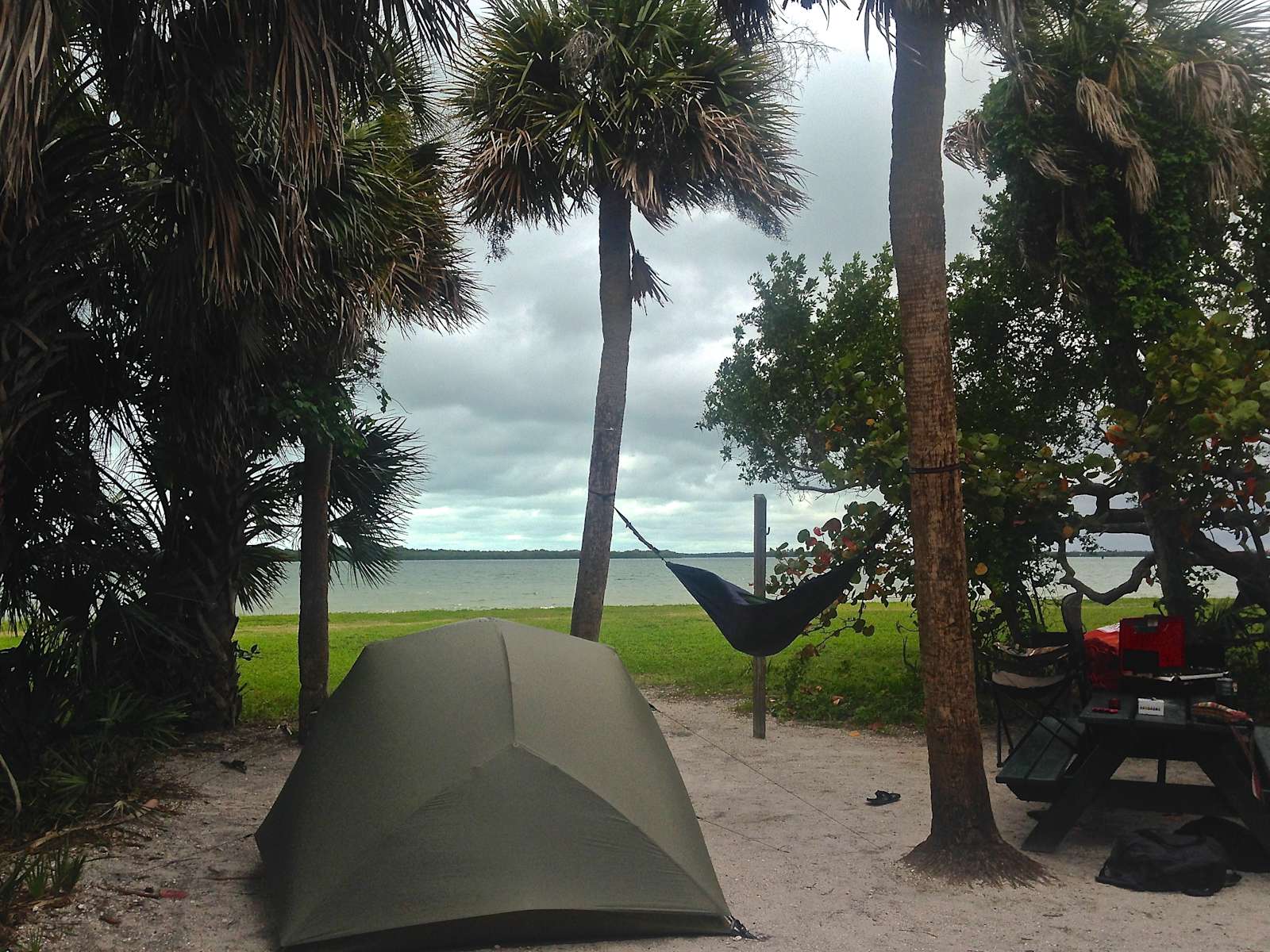 Only the tent campground in Fort DeSoto's huge campground is on an actual beach, but the majority of RV sites are on the water. The RV sites along the water's edge are on seawalls, yet they're still quite good! Within the park, you may paddle, cycle, or drive to one of the best beaches in the country, Fort DeSoto's famous North Beach. The campground, which includes a tent campground, has a total of 238 sites spread across three connected islands. Tent sites are $33.50 during the summer and $30 during the winter. RV sites cost $38.50 during the season and $37 during the off-season. (Add $2 if you want to be near the ocean.)
St. Joseph Peninsula State Park
Ten miles of secluded beaches, popular with beachcombers and nesting Loggerhead turtles! The park, which is near Port St. Joe, has two zones with 119 campsites, each with water and power. The Gulf Breeze has no shade and is exposed to the sea breeze. Large pines, oaks, and palm trees provide enough shade in the Shady Pines neighbourhood. There are eight fully equipped, air-conditioned/heated cabins that can accommodate up to eight people.
Grayton Beach State Park
This 2,000-acre park encompasses one of the most gorgeous beaches in the United States, a mile-long sugar-sand paradise that extends between Destin and Panama City Beach. A 4.5-mile hiking and biking trail is available, as well as a kayak launch for paddling Western Lake. A new campground loop has added 24 water, 50-amp electric, and sewer connection sites, bringing the total number of campsites to 52. Both camping loops offer hot showers and bathrooms. Invite friends to stay with you for a week or a weekend at the park, which features 30 two-bedroom duplex cabins that can accommodate up to six people apiece. Pets are permitted.
Gamble Rogers State Recreation Area
Gamble Rogers State Park is not particularly large in terms of state parks, but it does have a lovely 1/2-mile orange sand beach and a 34-site oceanfront campsite. The inland side of the 145-acre park contains a boat ramp and hiking paths that go to the Intracoastal Waterway and the saltwater marshes that are typical along this stretch of the coast, making it an ideal launch pad for boats, kayaks, and canoes looking to explore the many tranquil interior waterways. Along A1A, a paved cycling route leads to the adjoining North Peninsula State Park. Water, electricity, a picnic table, and a fire ring are available at each of the 34 campsites. On-site, there is a dump station. Pets are permitted.