Lufthansa airlines is no exception to the distress the COVID 19 brought about. The entire aviation industry including Lufthansa airlines has been hit in the worst way possible. Their passengers are no less harmed by the pandemic and the airline is trying their best to give the best service to them in their own way.
Passengers whose flights got cancelled because of the pandemic are given some choice. They are given under:
Eligibility for a Refund
-Upon cancelling their flight because of the pandemic, passengers can apply for a refund. If one has a fully unused ticket, he will be entitled to get a full refund. However, if your ticket is partially used, you will get a partial refund for the unused flight segment.
-If you haven't cancelled your flight and you want to cancel because of the pandemic, you will get a refund based on your fare conditions.
Eligibility for Cancellation
If a passenger has a flight up to 31 July 2021, he/she would be allowed to make changes to his/her booking with no charge except for a ticket that originates from Japan to Europe. You can not only change the date but also change departure and destination airports.
Lufthansa Airlines 24 Hour Cancellation Policy
Lufthansa airlines offer 24 hours free cancellation time on the same day of booking to passengers provided that it is 7 days or more before departure. In this case, there will be a full refund made to you regardless of your fare type i.e., refundable or non-refundable.
It is best to conform with this policy to avoid any loss of money.
Cancellation Policy
Voluntary Cancellaiton
If passengers cancel their refundable ticket after 24 hours of booking, a refund will be made after charging the cancellation fee. But if passengers cancel their non-refundable booking after 24 hours of booking, a refund will not be made to you and your whole ticket fare will be forfeited by the airline.
Involuntary Cancellation
If a passenger is cancelling because of any extenuating circumstances like a death in a family, sickness, any medical issues, judicial order, strikes, government order etc., there will be no cancellation fee charged to him/her. The passenger only has to give the documents which the airline will ask for as evidence.
If the airline delays or cancels any passenger's flight for any reason, the airline may make a schedule change for the passenger and it is totally up to the passenger to accept that or not. They can choose to accept the schedule change or ask for a refund/credit instead.
If Lufthansa airlines delay your flight by more than 2 hours because of an irregularity at least one day before departure, or by more than 5 hours because of an irregularity on the day of your travel, you will be eligible for a full refund.
If a passenger asks for a refund, there shall be a full refund and it will be processed in a few business days. However, if a passenger agrees to a schedule change, and if there is any long connecting flight, the airline will cover the hotel stay and airport transfer charge.
In a case like this, the airline can name some factual situations as the reason for cancellation. For instance, there can be a natural calamity, state emergency, security concerns, operation failure, lack of passengers, issues with the pilots, mechanical error, etc.
Cancellation Fees
Lufthansa Airlines cancellation fee will depend on your fare type, time and date of departure, number of tickets, etc.
If a passenger has a flight of "Secure your fare" option and doesn't take any action within 48 hours, he/she will be charged a cancellation fee of 39 USD.
If a passenger has an award ticket, he/she will be charged a cancellation fee of 60 USD.
No show Policy
If any passenger fails to cancel before the departure time regardless of the fare type, they will be marked as a no-show.
No passenger is eligible for a refund if they are marked as a no-show. The whole value of the ticket will be forfeited and you shall not get anything so, please make sure to cancel it before your departure date and time based on your fare time.
Cancellation and refund Policy
Lufthansa airlines allow eligible passengers to request for a refund in the way it was booked. In other words, if you booked through a third party, a request has to be made to that third party, and if you booked with the airline, the airline will make the refund for you.
The refund amount will depend upon the fare type, time and date of cancelling, etc.  Please be informed that airport and security taxes are refundable to all types of fares. However, service charges are not refundable.   
If there is any refund owed to you by the airline, the latter will make the refund to your account with which you booked. It normally takes just a few business days but passengers are requested to be patient with the airline if there is any delay. There is a huge number of passengers cancelling and asking for refunds because of the pandemic.
How to cancel Lufthansa Airlines Reservation
Passengers can make cancellations in a few ways. You can cancel it by yourself on the airline's official website or app. You can also contact the airline's reservation team to cancel it for you or you can simply cancel it through a third party with whom you booked your reservation.
If a passenger wants to cancel online or on app, we suggest you to follow these steps:
-First of all, go to lufthansa.com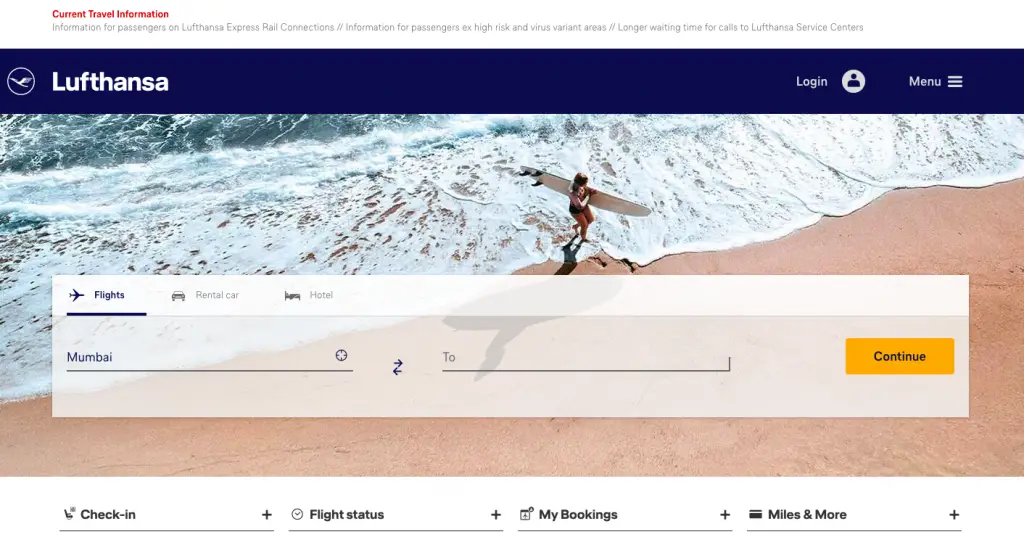 -Skip the login process if you already have the airline account
-Click the button "My Trip"/ "My Booking"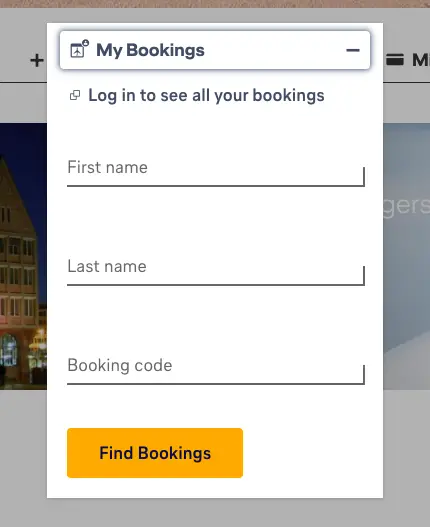 Enter your First name and your last name
Enter your six-digit confirmation number/ PNR and click on Find Bookings
-Choose the booking which you want to cancel from the available flights
-Press on cancellation

Note: If you book your reservation through a third party company or agency, cancellations are not possible on the official website. You either have to call Your Agency or the Airlines support service.
-Confirm the cancellation from the pop–up message by clicking "Yes"
-After your trip is cancelled, you can claim a refund if you are eligible

If you are eligible for a refund, you will get it in 7-10 business days according to your mode of payment and to the account with which you paid for your flight.
If you are cancelling by calling the airline, you need to call 8001025838. You will be asked for your confirmation code, first name and last name to verify your reservation. And there, you can simply tell the reservation team's agent whoever is assisting you to cancel certain flights for you. And while you are at it, you can check with them if your ticket is eligible for a refund. You can ask them any doubts and queries you have related to your ticket.