San Francisco is a coastal metropolis with some of the most gorgeous beaches in the country, if not the world. Because of its miles of scenic coastlines, elegant boutiques, delectable restaurants, and active art scene, San Francisco is a terrific city to visit. San Francisco caters to all interests and offers a range of beaches to choose from, whether you desire a peaceful retreat or a day at a busy tourist beach. So, let's have a look at the top ten beaches in the San Francisco area.
Baker Beach
As the spectacular vista of the Golden Gate bridge washes over you, cold currents surge to the windswept coast. It's a lovely spot to unwind and dip your toes in the sea, but don't go swimming because the water is chilly all year and the rip currents can be deadly. Built in 1904, the neighbouring Battery Chamberlain is historically significant. Although Baker Beach is not suitable for swimming, the Battery Chamberlin, a massive historic military gun battery dating from 1904, will keep you entertained, and North Baker Beach is a clothing-optional beach, so keep that in mind if you don't want to see that or if you're travelling with children.
Ocean Beach
Ocean Beach in San Francisco is a wild beach with strong waves and a large area of beautiful white sand. The view is further enhanced by the presence of offshore rocks. Ocean Beach is the city's longest sandy length, stretching for 3.5 miles, yet despite its popularity, it rarely feels crowded. Residents from the area come here to jog or walk their dogs. Making sandcastles is a fun activity for kids. Locals congregate around bonfires on those rare warm nights.
There are no lifeguards on duty at Ocean Beach. Swimming and wading are obviously prohibited according to signs posted at the beach. Due to dangerous rip currents and freezing water temperatures, swimming is not recommended. Only experienced surfers with wetsuits and the expertise to withstand the severe ocean swells should enter the water. In other words, Swimming and surfing are recommended for professionals who enjoy difficulties; for the others, kite-flying, picnics, or a visit to the adjacent San Francisco Zoo will be a blast!
Rodeo Beach
On the west side of the Marin Headlands in Golden Gate National Recreation Area, this large sandy beach stands on the sand spit that separates Rodeo Lagoon from Rodeo Cove. The beach is made entirely of small colourful stones, giving it a truly unique appearance. Take a walk to the beach's south end to see the spectacular boulders in the waves, and bring your binoculars to watch the birds on Bird Rock. The fact that this beach is easily accessible contributes to its long-term popularity. There is a parking lot with a trail leading to the beach that is free to use. Off-leash pets are permitted as long as they are voice-trained.
Stinson Beach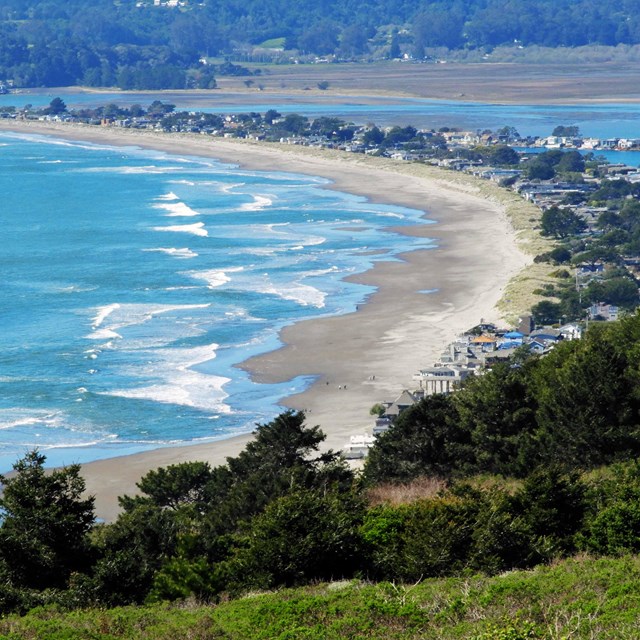 On sunny weekends, the beach length is the place to be for families, with facilities, showers, picnic tables, barbecues, and even a lifeguard on duty. Because people tend to park there all day, it's best to arrive early.
This beautiful white-sand beach runs for 3.5 miles and is perfect for leisurely seaside strolls. Beach volleyball, surfing, fishing, and picnics are also popular activities. Stinson Beach includes a picnic area with BBQ grills and tables in a sheltered pine grove.
The Parkside Cafe, located just steps from the beach, serves excellent California food. You can dine while listening to the seaside waves from the restaurant's beautiful outside patio.
Mile Rock Beach
Mile Rock Beach is a tranquil spot for a promenade and exploration of the natural environs in Lands End Park, which is home to the famed viewpoint. The beach has a rustic and natural feel to it because of the pebbles and logs that have gathered along the shore. The Lands End Labyrinth, an interesting formation composed of rocks arranged like a maze with breathtaking views of the bridge, is located above the shore. This beach is located on the south side of Golden Gate on the central shore of Lands End Park. There are picnic tables, a shipwreck, a lighthouse, and plenty of beach to explore in addition to the surrounding hiking trails.
Marshall's Beach
Marshall's Beach, located north of Baker Beach on the Presidio's Batteries to Bluffs Trail, is one of San Francisco's hidden coastline jewels. The beautiful beach is one of the greatest places in the city to see the Golden Gate Bridge, the Marin Headlands, and the Pacific Ocean, and it gives the impression of being in the middle of nowhere despite its proximity to the city's core region. Though the small beach is only around 1,000 feet long, its isolated position makes it an ideal destination for a waterfront day trip to get away from the city's hustle and bustle. There are many opportunities for birdwatching, as well as the occasional chance to see whales from the coast. Due to its remote location, the beach is also clothing-optional, allowing for natural sunbathing.
Crissy Field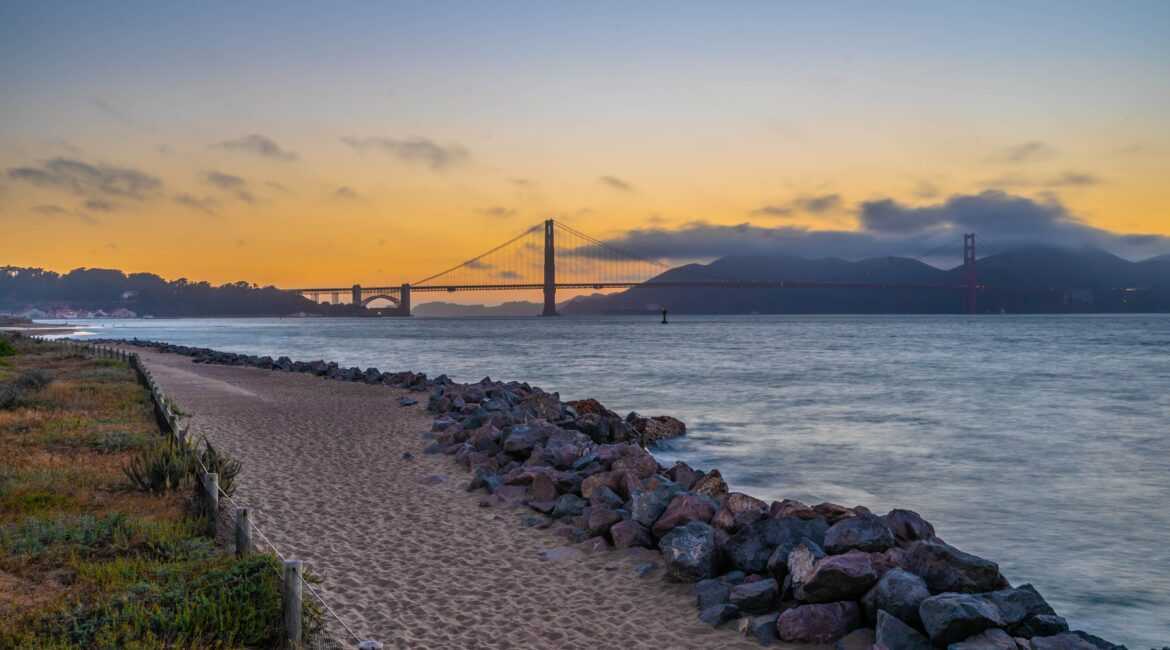 Crissy Field is a large park with a restored shoreline that offers exciting seaside enjoyment for swimmers, windsurfers, walkers, and wildlife watchers. The beaches here contain some spectacular dunes that have become home to a variety of local species. The beach is fun to explore on its own, but Crissy Field also features tidal wetlands with over 135 different bird species. You may wander through the marsh on a boardwalk to get a better look at these coastal critters. Just north of the Palace of Fine Arts is Crissy Field.
Agate Beach Park
Agate Beach Park is a 6.6-acre beach near Bolinas that is part of the federal-state-operated Duxbury Reef State Marine Reserve, which protects important marine life habitats and resources. At low tide, tourists can explore over two miles of broad Pacific Ocean shoreline, with swimming options available throughout the summer months. At low tide, beachgoers can explore the beach's spectacular tidal pools, which are often teeming with marine life. On clear days, views as far as the Farallon Islands can be seen. Shoreline fishing and wildflower viewing are two popular beach activities, though visitors should be aware that disrupting natural ecosystems through gathering or other activities is illegal.
Mountain Lake Beach
Mountain Lake Beach is a crown jewel of Presidio in that it provides a tranquil haven away from the city's hustle and bustle. When you arrive, you'll be greeted by calm seas and a swarm of waterfowl such as seagulls and ducks. Given Mountain Lake Park's prominence, there are various hiking paths in the vicinity, as well as a fitness route that is one of San Francisco's oldest. If you're seeking a change of pace, there's also a vast meadow where you may relax in green fields. This lake is located on the park's south edge, slightly north of Lake Street.
China Beach
China Beach, which faces north into the Marin Headlands and has an excellent view of the Golden Gate Bridge, is absolutely magnificent. The granite walls on both sides provide a little protected area that was previously a Chinese fisherman's camp, hence the name. China Beach is one of San Francisco's most memorable public beaches, surrounded by lovely hiking paths and rocks with sea critters clinging to them. Lands End, located just south of the cove, includes some good hiking paths as well as a hidden surprise.